If the usual vegetable dishes have bored you, try our original zucchini recipes: you will tickle the palate of your guests!
Zucchini is one of the most common and versatile summer vegetables. Their delicate taste and easy-to-cut texture make them a very valuable ingredient.
For these reasons, they are very often used in every home, especially if children are seated at the table. The reason for this is that children generally don't think of vegetables like all other vegetables: even cooked, they are not slimy and do not taste too strong, so they can be easily "disguised" by other ingredients. .
Obviously, however, recipes with traditional homemade zucchini are always the same, so after a while they get bored. We come to your rescue with recipes that you have probably never prepared: you will make a good impression!
4 original recipes with zucchini that the whole family will love
As already mentioned, courgettes go wonderfully with many types of ingredients and, depending on how they are cut, they can be used in very different preparations.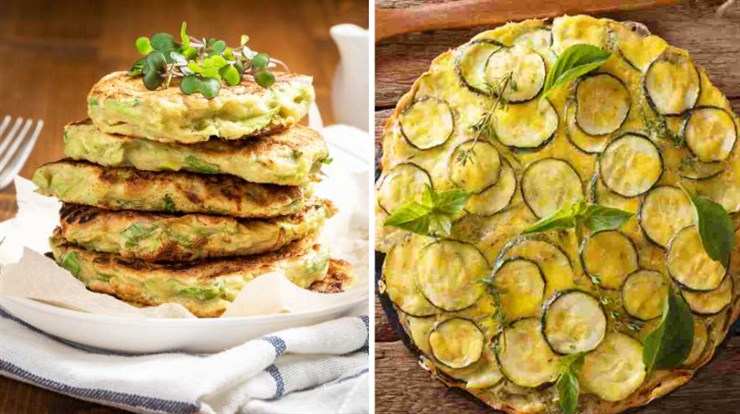 ZUCCHINI PANCAKES
When we talk about pancakes we usually think of the classic sweet version to prepare for breakfast or snack. This salty version, on the other hand, is perfect for a buffet lunch but also for a packed lunch or even as an aperitif in a dinner with friends.
Preparation time: 5 minutes
Cooking time: 20 minutes
Total time: 25 minutes
Ingredients:
120 g flour 00
200g zucchini
1 organic egg
20 g of parmesan
200g milk
1 teaspoon baking powder
salt to taste
Pepper to taste
Here you will find all the preparation steps and even a mom's tip to make each pancake even softer.
LIGHT CAKE WITH ZUCCHINI AND RICOTTA SALT
Savory pies are a staple of summer meals. They can be made well in advance, taken to the beach or away from home, and ideal for one of the classic dinner parties where everyone brings something.
If you need to keep an eye on the calories or have guests who prefer to eat light, this recipe is absolutely ideal!
Preparation time: 10 minutes
Cooking time: 30 minutes
Total time: 40 minutes
Ingredients:
50g flour 00
150g light ricotta
400g zucchini
2 organic eggs
40 g grated parmesan
1 tablespoon baking powder
salt to taste
For the complete recipe for the zucchini pie you can click here. We've also included a small selection of spices that pair perfectly with this dish to give this cake an exotic and mouth-watering flavor.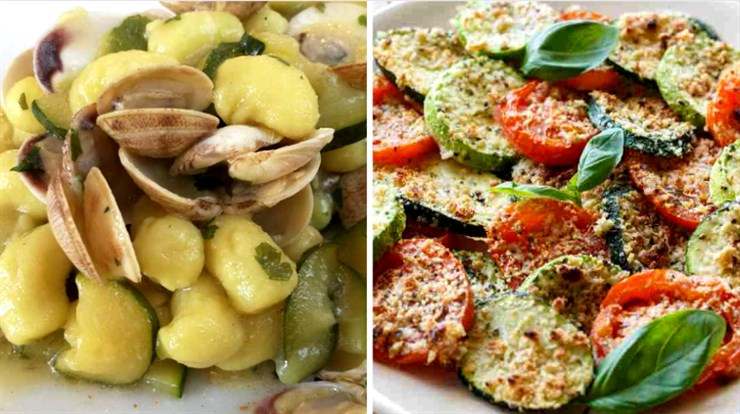 POTATO GNOCCHI WITH CLAMS AND ZUCCHINI
Potato gnocchi are a godsend for those on a slimming diet (here we recommend 3 light recipes for seasoning gnocchi). Luckily, however, they are also a popular dish that appeals to everyone.
This "mare e monti" recipe combines gnocchi, zucchini and seafood, to make everyone agree!
Preparation time: 10 minutes
Cooking time: 20 minutes
Total time: 30 minutes
Ingredients:
800g gnocchi
600g clams
2 zucchini
2 cloves garlic
1 bunch of fresh parsley
taste extra virgin olive oil
taste white wine
taste the salt
Here we explain step by step how to prepare gnocchi with zucchini and clams: the recipe is very simple and also suitable for beginners.
ZUCCHINI SAND WITH TOMATOES
Although they are usually used as a condiment for starters or as a base for preparing vegetable-based main dishes, zucchini is also perfect for preparing very tasty side dishes.
This is the case with this "shortbread" recipe, which makes the vegetables crunchy thanks to a clever addition of breadcrumbs and pecorino.
Preparation time: 5 minutes
Cooking time: 20 minutes
Total time: 25 minutes
Ingredients:
2 zucchini
150g red tomatoes
1 clove of garlic
breadcrumbs to taste
30g grated pecorino romano cheese
taste the oregano
4 basil leaves
taste extra virgin olive oil
taste the salt
Here you will find the whole procedure and remember that, if prepared in large quantities, this dish can very well replace a dinner, since it keeps very well in the refrigerator without losing its crunch for at least two days. Obviously, it will be placed in a hermetically sealed container.