Lodovico Tamburi
Lodovico Tamburi, known by his community as "unpelatoincucina", he enjoys cooking, especially for others. The three hashtags of her cuisine are: familiar, reasoned and good. Fin as a child, food was always simply a beautiful way for him to share time with the people he loved, so much so that what he appreciates most is the human contact and the tangible joy that sharing a freshly prepared meal. He always wanted to be a chef, but his parents insisted that he get a degree, so during the 8 years of study (Bachelor's, Master's and Master's) he pursued his passion, spending the days shopping and cooking for friends and roommates. At 25, he decides to follow his own path, and so after various experiences, he goes from being a curious spectator of Gambero Rosso programs to being the protagonist of a show that suits him perfectly.
At Lodo
The Roman cook is the protagonist of "Chez Lodo"the new Gambero Rosso Channel program which will broadcast from October 18, every Tuesday at 9:00 p.m.. The setting, as its name suggests, is domestic, we are in the restaurant of Lodovico's temporary home in the heart of Rome, where he himself welcomes the guests who have decided to rely on him for a pleasant lunch. The guests change with each episode and have been chosen thanks to a competition launched on the web, with them the menu also changes, specially designed by the chef according to the preferences and specific requests of each one. During each episode, Lodo creates a welcome drink and 2 dishes, then personally serves them at the table.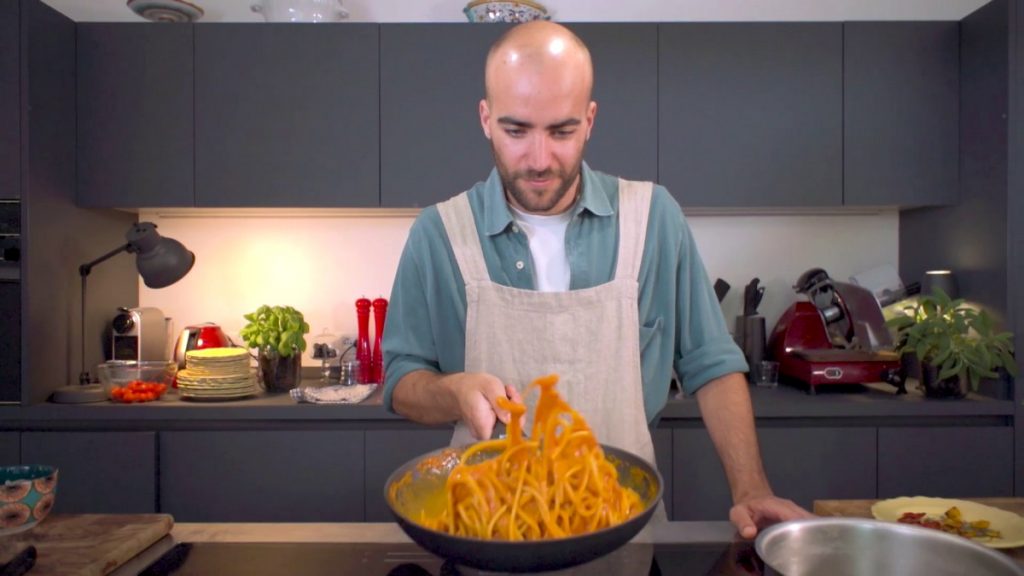 The interview of the new talented chef of Gambero Rosso Channel
How was this passion for cooking born?
It all started with my grandmother. When on Sunday they took me to visit my grandparents as soon as I walked into that house I could already smell the food she was cooking, that's one of the earliest memories I have of my life, If I think about it, I can still smell that smell. So instead of spending time playing, I spent all day in the kitchen with her.
What have you done to perpetuate this passion?
I realized that these flavors and aromas intrigued me, and then the next step was to figure out how much I loved eating, I still love it, so I moved from scent to taste. In high school every night when my dad came home from work, we watched Gambero Rosso Channel with Max Mariola in his early days and Laura Ravaioli.
What experiences shaped you?
The first time I walked into a restaurant on the outskirts of Brussels, they put me in the fryer to make frozen fries because that was the only thing I could do. Even though it was the most humble job in the world, I had a big smile and knew it was what I wanted to do. Then I returned to Italy and accidentally ended up at Retrobottega in Rome.
Coincidence, that is?
My girlfriend at the time had given me a cooking class, the teacher had noticed my great passion and told me that they were looking for help from the Backroom if I wanted to have work experience. So I wrote to Alessandro Miocchi, the chef, and they hired me for a few months. Then I frequented Alma in Colorno and went to Madrid to the two-star Michelin restaurant El Coque by the Sandoval brothers.
And how was the experience there?
Very very beautiful, my first time in a signature restaurant: I felt the pressure to make elaborate, precise and perfect menus with beautiful raw materials and incredible attention to the customer. The context was particular: a traditional Spanish restaurant that was moving, so I saw two restaurants and two kitchens.
Did you enjoy working in kitchens or were you looking for your own space, which you first found on the web and now on TV?
The best moment of my life was at Backroom and Alma, because I was finally able to do what until then I was not allowed. My enthusiasm faded in Madrid because of the inhuman rhythms I was doing. So after 3/4 months, when I reached the position of playmaker, with great regret I left because I was physically destroyed. That's how I realized that restaurants didn't reflect my idea of ​​cooking. My passion for cooking has always been linked to contact with people and, unfortunately, when you work in restaurants, you don't see people.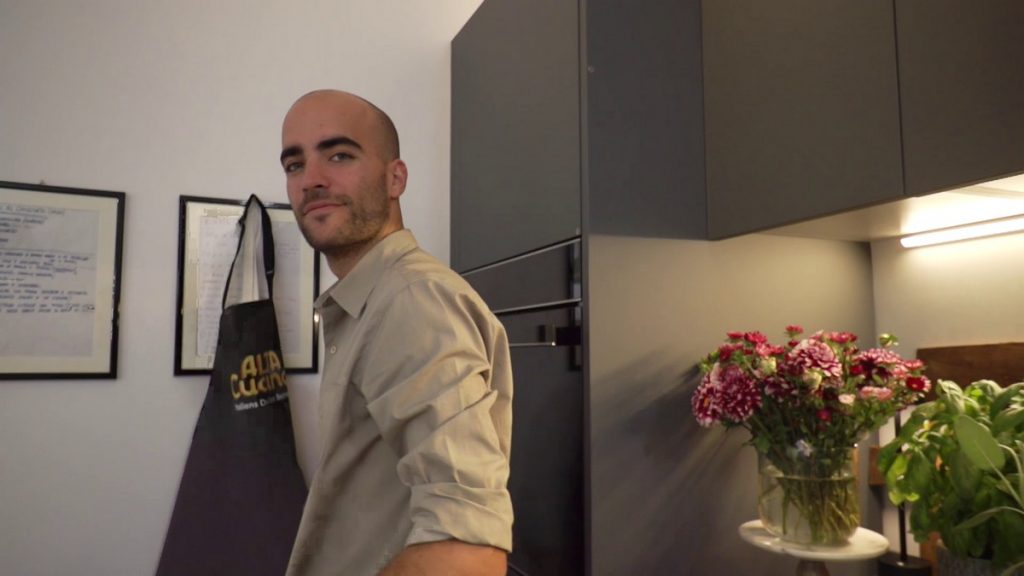 What did you do then?

In fact, in Madrid, I also caught Chron's disease, which comes from stress. I went back to Italy, had an operation and the doctors told me to stay away from kitchens for a while. I was a ski instructor, then little by little I started cooking again with caterers and as a private chef because I had something lacking. It allowed me to be more free and flexible, to decide when to participate or not in events. Unfortunately in 2020 out of the 100 events we had to do, we only did 10 because of the Covid. So I started making Instagram prank recipes with my sister.
How did the collaboration with Al.ta cucina come about?
Luckily the guys from Al.ta cucina saw my videos, they had a free slot for one of the live shows they were doing every day, so they contacted me, it went well and a year later they hired me. It is a young reality, a social network that wants to bring together all the cooking enthusiasts already with millions of followers, who have believed in me and made me the protagonist of many video recipes, tutorials and culinary journeys.
How to go from spectator to protagonist of one of the programs of Gambero Rosso Channel?
It still doesn't seem real to me. It's a circle that closes, something I never hoped or dreamed of, but in reality it makes sense in the end: it's my personal happy ending, linked to my story and my family. Now seeing myself on TV I don't know what it's going to be like, I have to wait until Tuesday, but the idea makes a bit of an impression on me: on the one hand, as I said, it's come full circle , on the other hand, I think this is just the beginning of a new path and I still have so much to give.
Did you inspire the format?
I really liked Gambero Rosso in the way he approached me, they introduced themselves and said to me: "We do television, we do not do fiction and we will never tell you to do something that you don't feel like you, we try to create tailor-made formats based on our talents". I then told him a bit about my story, focusing on what I love most about cooking: creating with my hands something that wasn't there before, to share it with the people I care about, and see that it has a positive effect on them. So the producers of the production had the idea of ​​trying to do the same : invite guests to my house for lunch, to whom I cook trying to satisfy their requests.
How was the experience on set?
Terrible (laughs). It's a project we were already talking about a year ago and I had been dreaming about it for a long time. In one year, a lot of work was done and a lot of expectations were created, I spent the whole summer thinking about this stuff. I was on the set and I couldn't believe it, it was the first time it was very emotional and I think you can sometimes see it in the program. The team was so cute, they made me feel comfortable and they helped me out, I had some laughs I haven't had in years so I can't wait to do it again.
So will there be other seasons? What do you expect from this new experience?

Whether Gambero Rosso audiences will like it and whether the new program will work remains to be seen. The hope is that there may be other seasons and different formats: my dream now is to become a little Giorgione.
What is your favorite recipe?
Probably the tagliatelle al ragù, because like many things in Italian cuisine it is a preparation that takes a lot of time, which you spend pampering what you are going to eat, creating something of your own… and then for me, despite being Roman, the Emilian cuisine is the best in Italy.
curated by Vivian Petrini
A casa di Lodo airs only on Gambero Rosso Channel, Sky 133 and 415