A great passion for conviviality and the spasmodic search for good, clean and quality food are among the forces that led to the creation of the Convivia brand, specializing in the processing of certified organic, gluten-free and vegan fruits and vegetables, prepared with raw materials of exclusively Sicilian origin, mainly grown on the land of the family farm.
Pictured are Gabriella Garozzo and Pietro Campione, owners of Sicilian Convivia – For Italian Food Lovers
"Contact with nature is the basis of everything: it is the starting point for those who cultivate bearing in mind that a healthy diet is not only good for man, but also for the body. environment. We grow and process in our laboratory in Solarino (SR ): cherry tomatoes, aubergines, basil, wild fennel, chili peppers and native almonds. Precious fruits, which we value according to the typical recipes of the local tradition with the aim of make it known, even beyond national borders." So says Pietro Campione, owner of the Sicilian Convivia – For Italian Food Lovers, run with his wife Gabriella Garozzo.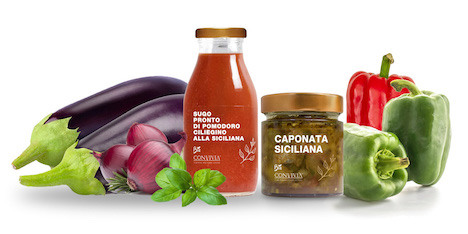 The flagship product is the ready-to-use cherry tomato sauce in a 330 gram beer bottle. A market segment in constant growth, which has nothing to envy to the benefits of traditional artisanal preserves.
Over the years, the company has differentiated its production with a range of starters, pesto and pâté and a range of 6 ready-to-use sauces with typical flavors of Mediterranean cuisine, available in 250 gram format. To complete the assortment, of course, the classic Sicilian caponata (190 g) could not be missing. A very special reference, because it is processed exclusively with organic products from its own production including: eggplant (50%), tomato sauce (16%), fleur de sel, basil, onion (11%), celery (7%) , extra virgin olive oil (5%), white wine vinegar, cane sugar for the sweet and sour, green olives, capers, black pepper and chilli.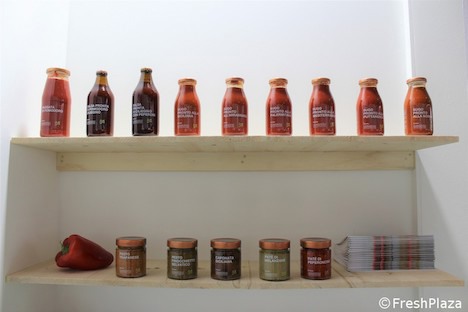 "We have a clear perception – explains Pietro Campione – that the consumer is changing: in addition to appreciating more and more typical local products, they are not buying just because the price is affordable. In general, he is a traditionalist in terms of choosing classic products. or revisited recipes that mark the territories, and much more attentive, for example, to the label and the production chain".
"Our customers, especially abroad, are also very attentive to issues of environmental sustainability, to the debate on GMOs and also to small and medium local productions and, in general, to the whole sector of organic and quality productions. that characterize the made in italy".
Pictured, Gabriella Garozzo, Convivia export manager
The company processes fresh cherry tomatoes grown in the open field in the summer, with an on-plant sugar content of the product ranging from 8 to 11 degrees Brix. Most of the production is intended for processing, with a view to fostering the process of internationalization. This is achieved thanks to a massive presence in Italian and foreign fairs and agents who over the years have made the company grow with 90% of foreign turnover achieved in Europe (Switzerland, France, Sweden, Germany ) and in Japan.
For more information:


Convivia – For lovers of Italian cuisine
Via Giuseppe Like, 21
95030 Gravina di Catania (CT) – Italy
[email protected]
www.convivia.it