Craftsmanship and Palazzo dedicated the XXVIII edizione ai grand master go generazioni emergenti. A coloro che del fatto a mano hanno fatto una bandiera. La mostra, in program from 16 to 18 September al Giardino Corsini di Firenze, bring all' attention to a new selection of oltre 90 testimoni della più alta tradizione artigiana. Ampio lo spazio riservato agli artigiani di domani.
Tra gli espositori c'è la Bottega Penko che mostrerà le tecniche ei gioielli dell'antica tradizione fiorentina, like lo scettro e la corona granducale, simboli del potere di Cosimo I de' Medici. 'Kindness and sustainability' è invece il progetto realizzato da Irene Ivoiecodesigner and industrial designer esperta in politiche e prevention rifiuti, a sostegno dei principi di un'economia circolare.
Tra gli artigiani che arriveno da lontano ci sono Christian Muscat (Malta), specializzato in tecniche tradizionali di tessitura, Hugh Byrne (Irland) che crea coltelli con legni naturali, Louise McKeever (France) che crea cestini originali, Moeki Yamada (Spagna) che realizza borse in stile giapponese e Teona Gorgiashvili (Georgia) che porta i suoi oggetti in ceramica.
L'asciugatura all'aria del Consorzio Vera Pelle Italiana Conciata al Vegetale
Artigianato e Palazzo: impegno che dura da 28 anni
Artigianato e Palazzo è promossa dall'Association Giardino Corsinidi cui è presidente Sabina Corsiniinsieme a Neri Torrigiani ideatore e organizzatore della mostra. Quest'anno un viaggio inedito tra i protagonisti della cultura artigiana di ieri e di oggi – dagli artigiani agli designer. He percorso si snoda tra Limonaie del Giardino rinascimentale ed alcuni ambienti di Palazzo Corsini. Tra mostre, installazioni, laboratori, eventi, l'occasione per riflettere sul ruolo dell'craftsman nella società contemporary.
"In question ventotto anni il nostro impegno è stato e continueà ad essere non solo quello di portare all'attenzione di un vasto pubblico le migliori maestranze artigiane, ma soprattutto quello di salvaguardare l'indipendenza delle botteghe, che sono il perno stesso della loro esistenza , risultato di ingegno creativo e sperimentazione sul campo" dichiarano Sabrina Corsini e Neri Torrigiani.
Per i due "parlare di "artigianato made Italy" means soprattutto ricusare la globalizzazione e sviluppare la prossimità". Insomma Artigianato e Palazzo sposa 'sceltic sostenibili' e invited a 'riprendere a fare' per rispettare la Terra e inquinare meno: "salvaguardare la tradizione è oggi la nostra sfida verso un futuro migliore" concludono i due.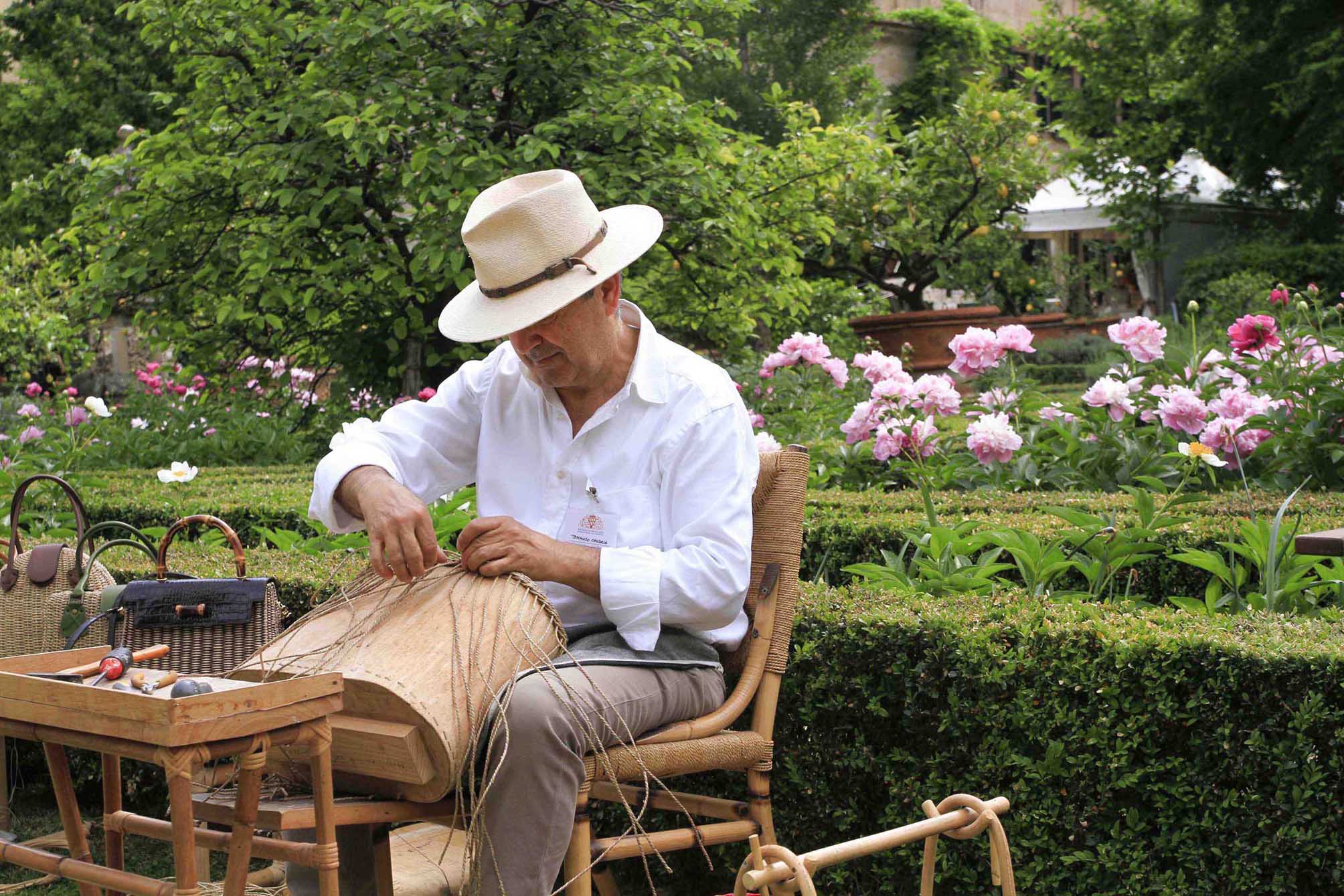 Craftsmanship and Palazzo
La vacchetta toscana e il Consorzio Vera Pelle
The Mostra Principe di Craftsmanship and Palazzo è dedicated al "Consorzio Vera Pelle Italiana Conciata al Vegetale": un gruppo di aziende che raccontano la loro storia, esaltando una lavorazione artigianale al passo con i tempi e con l'evoluzione della moda.
L'esposizione vuole raccontare like Toscana sia stata capace di creare nei secoli la cultura di un prodotto che da umile è diventato iconico, Tuscan Vacchetta.
Nel Giardinetto delle rose vari gli appuntamenti anticipated, tra cui 'A conversation with… the Community of San Patrignano' with Virgilio Albertini, vice-president Community of San Patrignano. Tra le iniziative, l'assegnazione del Premium Perseo all'espositore più apprezzato dal pubblico e il 'Premio Giorgiana Corsini'per lo stand più bello.
Si può inoltre visitare nello spazio Focus new mostra di Artex dedicated to all eccellenze del vetro della Toscana o fare an immersive experience nell'installation video di Toscana Promozione Turistica allestita nella Biblioteca di Palazzo Corsini per raccontare il legame tra turismo e artigianato.
Ricette di famiglia nel segno delle crime stories
"Il crimine è servito" e no, non è il maggiordomo il colpevole. The edition 2022 di "Ricette di famiglia", the appuntamento pomeridiano di Craftsman and Palazzo in program nel Giardino Corsini in Firenze from 16 to 18 September punta sul black.
Quattro fra i più importanti scrittori italiani di gialli si divertiranno tra un piatto e l'altro a dialogare con la curatrice della rassegna: la giornalista enogastronomica Annamaria Tossani. Sulle tracce del cibo, tra suspense e intrighi, Patrizia Debicke Van Der Noot (Friday 16), Lucio Nocentini (sabato 17), Marco Vichi (domenica 18) e Enzo Fileno Carabba (domenica 18) terranno i visitatori incollati alla sedia. Come ogni buon giallo che si rispetti.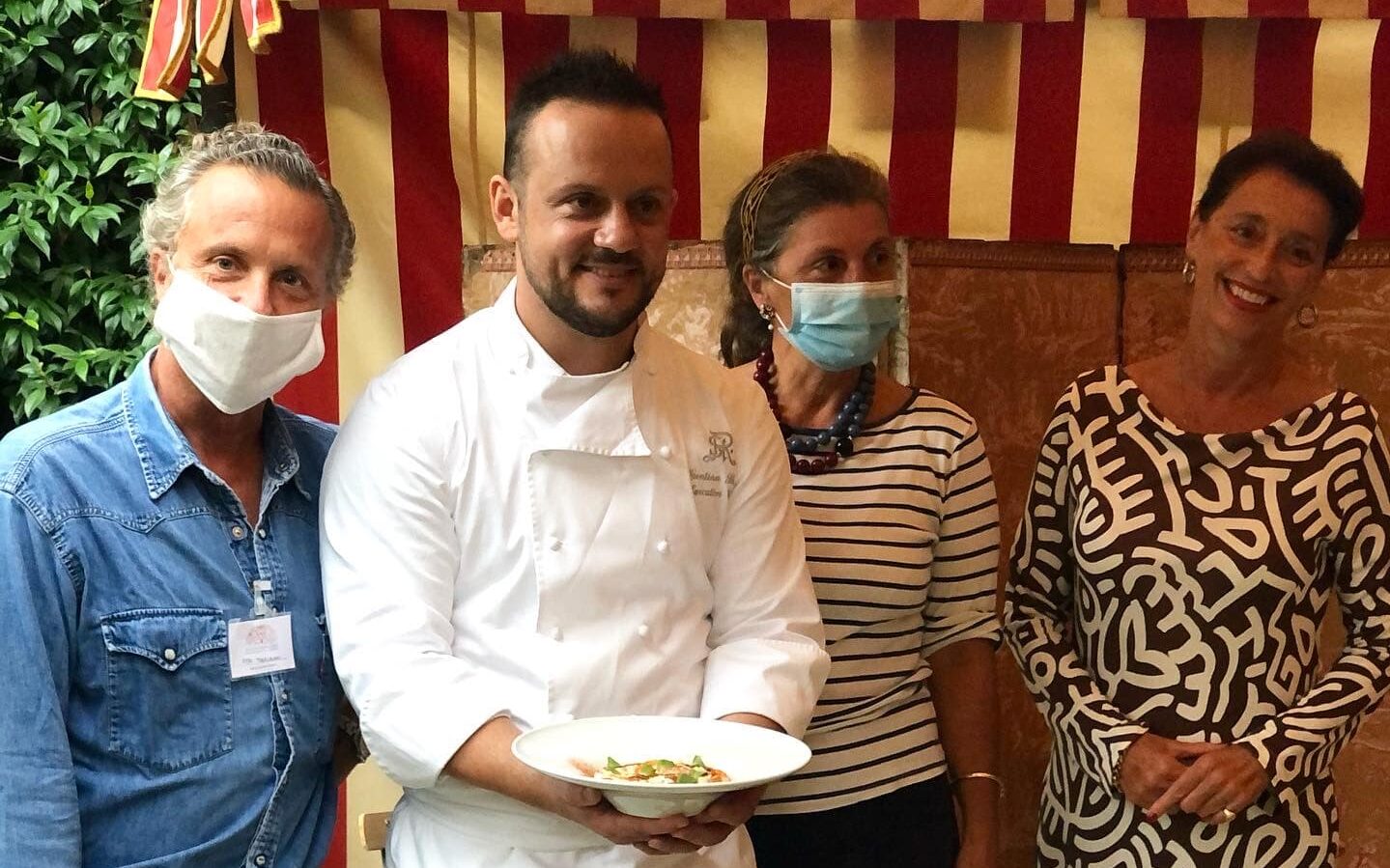 Ricette di Famiglia: da sinistra Neri Torrigiani, Chef Gentian Shehi, Sabina Corsini, Annamaria Tossani
Attraverso i loro racconti avranno modo di capire cos'è che ispira un libro giallo, i segreti per creare the suspense e soprattutto risolvere il caso e scoprire il colpevole. Di ognuno dei loro personaggi racconteranno le ricette e le segrete passioni ai fornelli. A sicuro binomio tra black and kitchen che nella storia del giallo boasts a lunga tradition.
The "Ricette di famiglia" dei giallisti saranno eseguite in tempo reale, pendante la descrizione degli authori, dagli chef della Scuola d'Arte Culinary Cordon Bleu di Firenze. Fundamental l'apporto delle due fondatrici Cristina Blasi and Gabriella Mari .
I manicaretti usciti dalla cucina professionale allestita da Casta Professional Cooking Equipment saranno serviti ai presenti negli esclusivi piatti di porcellana Fornasetti from the series "Topics and Variations", finely decorated a mano.
Non mancherà il book corner per il firmacopie a cura di brac: una libreria con cucina che coniuga the passion of the founder Sacha Sandri Olmocuoco specializzato in vegetarian cuisine e vegana, e Melisa DiNardobibliofila e biblioteconoma.
The promotion of "Ricette di famiglia" sarà affidata a very spot-thriller cura di Jeppetto – Juri Ciani and Gaia Gianniangeli – girati nel Giardino di Palazzo Corsini.