The American barbecue… in Italy
"The barbecue that is becoming popular here has very little Italian. We are moving away from the concept of flavor that has always characterized our cuisine, moving closer to an American style". He has clear ideas, Paolo Gori from Trattoria Da Burde, Tre Gamberi in Gambero Rosso's Italian Restaurants guide – authentically Tuscan cuisine from Florence – who knows meat and grills well. "It all depends on the starting raw material, which must be in the center of the dish. I prefer simple preparations, without excessive caramelization, also because pairing with wine becomes difficult and even more so in summer". However, it is precisely the American style (and American for short) that has been spreading for some time in Italy, among the chefs (there is no longer a high-level restaurant that does not have a barbecue) but also among amateur and passionate cooks. Brushing with oil and marinades, a mixture of spices with a strong taste (the famous ribs) and a long cooking: elaborate dishes with an intense taste, it is the authentic American barbecue, very different from the concept of the Italian grill. "Salt and a few aromatic herbs are enough for us"Comment Paul"Lately, many Tuscan chefs have been serving Florentine sciapa, precisely to improve the quality of the meat".
He knows it too Steven Raichlen, master of the American barbecue who revolutionized the way of conceiving the grill in the States: cook, former food critic, TV star and author of numerous books, Raichlen researched raw materials and developed innovative cooking techniques his mantra. Some time ago he was also the protagonist of the television program of the Gambero Rosso channel, "Steven Raichlen Grills Italy", to which he also dedicated a book, an experience that allowed him to get to know the Italian products and traditions. "Simplicity is the watchword when cooking in Italy. And this is also reflected in the way of grilling: a little salt and you're done". On the other hand, this attachment to traditions can be limiting: "Americans experiment more, I rarely cook a product the same way twice in a row. In one month I cook Japanese, Italian, French, Malaysian, Indian, Peruvian…".
The "food-porn" and the "sensual" barbecue
In the August monthly of Gambero Rosso leader Daniele Colombu of the Motta Butcher restaurant in Bellinzago Lombardo (MI): a lover of essential flavors, he prefers meat cooked in a "as natural as possible: if the product is of high quality, it is better not to cover it with additional flavorsthe". For example, the most popular meat in restaurants is Piedmontese fat beef: "other cuts can be treated differently, with a dry marinade of salt and sugar, but fatty beef is prized, it needs nothing else". The particularity ? "On the outside it is fat while on the inside it is lean, then the special maturation causes the meat to lose liquid, so that during the cooking phase the traditional weight loss that usually occurs with other cuts does not occur ".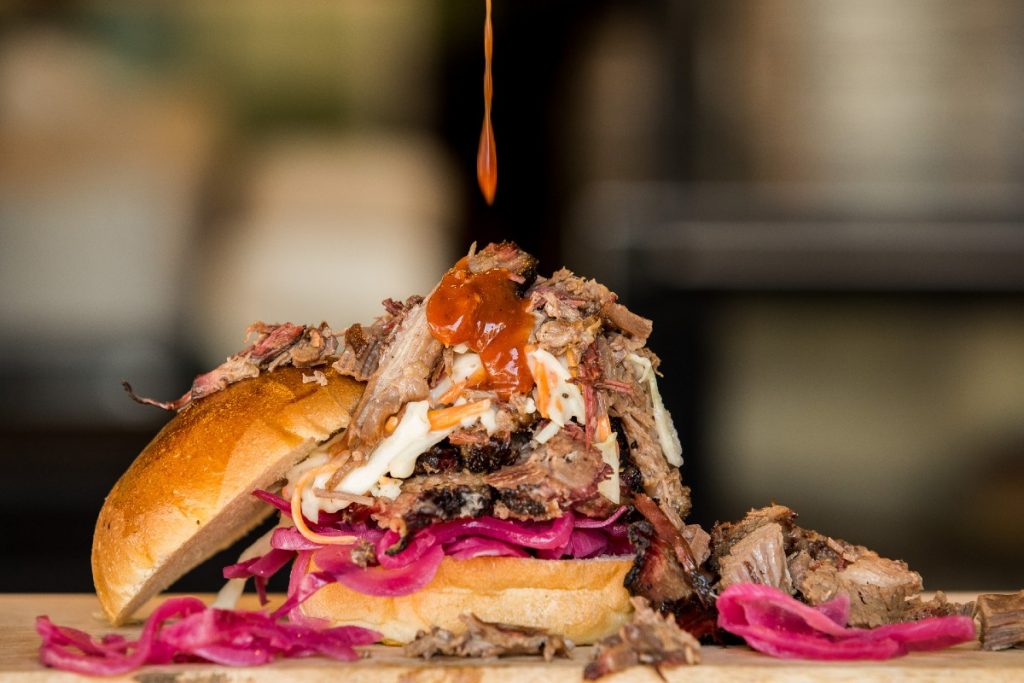 Whichever piece is chosen, for a level barbecue it is essential to keep an eye on several parameters: "You have to understand when the proteins coagulate, where the cartilages are, the fats which, once dissolved, give flavor to the meat. In short, it is necessary to have a great control of the situation, in particular at the thermal level», explains Paolo Gori. The longer the cooking times, the greater the need for a water component in the meat, "Fat is essential for maintaining smoothness. In general, I would avoid over-complicating the job and choose simple cuts: to be clear, a slow-cooked Florentine on an American barbecue doesn't make much sense. For slower cooking, it is better to use pieces of pork, except the loin which is too lean". Cooking outdoors, dinners with friends, summer evenings with mugs of beer, bruschetta, large pieces of meat to share… but what is the element of the barbecue that fascinates the most? "The porn. The barbecue is pornographic, greedy, persuasive, captivating. The Italian grill is more classy, ​​elegant, sensual: porn of sensuality sells better" smiles Paolo "the barbecue is a bit like classic French cuisine, lots of different cooking methods, broths, sauces… technique takes precedence over taste". And then there is a whole universe of gadgets, utensils and tools behind the culture of the grill, an old phenomenon but sufficiently pop to make proselytes (and money): "the business is crazy, with the cooking machines we also buy a lot of related tools".
Italy on the grid
However, the barbecue is not just an American prerogative: the barbecue is a great classic of Italian summers, essential during patronal festivals and village festivals. "From appetizer to dessert, I recommend using the barbecue for everything" said Raichlen. To start, smoked scamorza in lemon leaves and Tuscan bread rubbed with garlic, tomatoes, oil, salt and pepper,"then we move on to squid stuffed with breadcrumbs, lemon zest and parsley or oysters with leeks and bacon ». More grilled veal cutlets: "the veal in Italy is exceptional, I would combine it with tuna sauce or bagna cauda. I know, Italians prefer not to use too many sauces… but I'm American, I'm not so attached to traditions". As an accompaniment, artichokes with garlic and mint"cooked like cavemen, or directly on the coals" and grilled polenta, while for dessert a peach halved sprinkled with sugar and grilled suffices: "I also make an excellent Bellini" – explains Reichlen – or even peaches stuffed with mascarpone and amaretti, "to smoke", of course !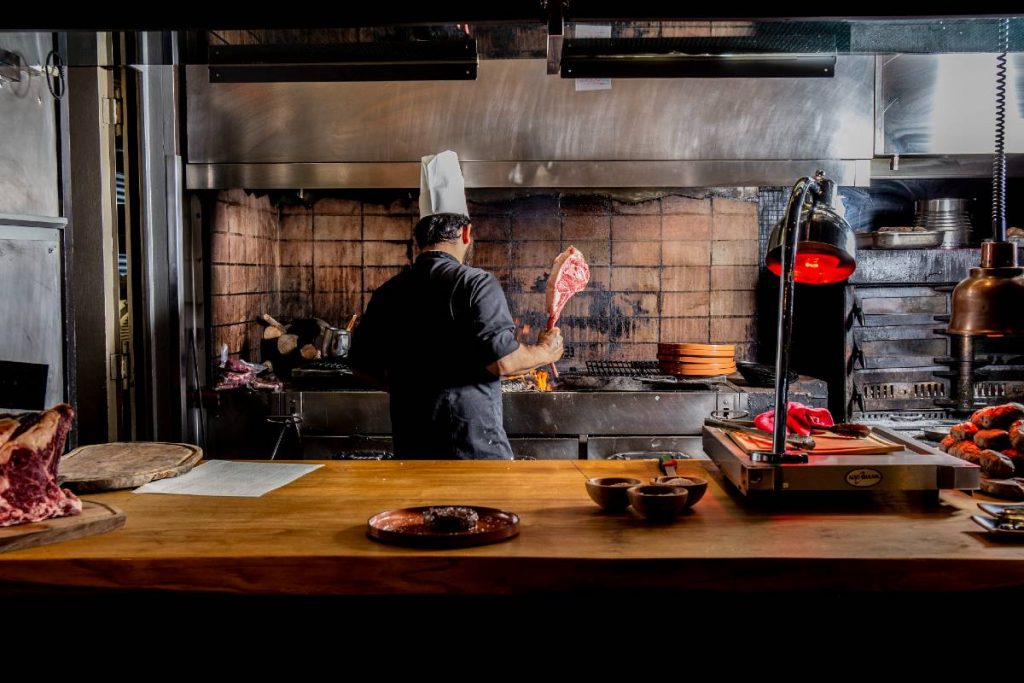 "there will be dishes from appetizers to desserts, made on different machines, with different types of charcoal, more or less smoked… these will not be fixed options, they will change depending on the availability of ingredients and also time: it's not easy to manage a menu like this". We start with the lake fish in two ways, "First on the plate, then directly on the fire"accompanied by green beans from the sea and land, cherries and ceviche, then continue with baby octopus on a plate"covered with a bell of aromatic herbs and served with potatoes, lemon and parsley"then a pork belly cooked first at low temperature and finished on the Japanese ceramic barbecue, "with the maximum amount of smoke", accompanied by an emulsion of tomato seeds and sea urchins.
curated by Michela Becchi
IT'S NOTHING …
In the monthly Gambero Rosso for August, we talk about smoking and its different variations, not only for meat but also in terms of beers and cocktails. Among the barbecue masters, Andrea Amici and his wife Alice Contini, sommelier and charcoal enthusiast of Contini Gastronomy 2.0. However, he was among the first to bring the concept of smoking to the star in Italy. Phil's, a Roman Slow Smoked American Barbecue local that does "old fashioned" smoking. As for embers, we cannot fail to mention Andreina, the Loreto restaurant of chef Errico Recanati, which has made the grill its trademark. Around the world in 10 grilled dishes is interesting and the list of addresses where you can have a culinary experience with barbecue and grills is very useful. We are talking about grilled vegetables, barbecue machines and one of the essential preparations, pulled pork. When thinking of barbecue, the association with made in the USA cuisine is immediate, but let's not forget rotisserie, a form of Italian barbecue that has been around for quite some time. But that's not all. Learn more about the new issue of Gambero Rosso.
The number can be found on newsstands or in digital version, on App store Where play store
Subscription here