Champagne is one of the best known and most loved wines in the world and so…why not identify a day to make it a global celebration? The idea came in 2009 to a Californian blogger and wine tutor, Chris Ogenfuss, which kicked off #ChampagneDay. Over the years, the event has become the universal meeting place for Champagne lovers.
Celebration it falls on the 4th Friday in October every year and this year it will be October 28th. On the site of the Champagne Committee you can see all the events scheduled in Italy in wine bars and restaurants, and you can share your photos and videos of the day with toasts and champagne on Twitter, Facebook And instagram (of course with the tag #ChampagneDay).
Domenico Avoliodirector of the Champagne Office Italy
If you're looking for inspiration, there are tips from Marco Chiesa, European champagne ambassador, the only Italian to have won this title. While waiting for October 28, in fact, the Champagne Office Italyhosted an educational event at the hotel Park Hyatt from Milan: so we start with the tips for a standing aperitif, up to the perfect labels for a placed dinner. The Ambassador Church he even goes further by suggesting the right film or the right music to play in the background, in order to link the taste experience to a "sounding" visual and sound experience with the taste of champagne. The gastronomic part could not be missing: you will find, for each label, the combinations of the chef of Pellico 3 Guido Paternello which can be a good starting point to delight your guests.
Marco ChiesaEuropean Champagne Ambassador
"Champagne has three particularities – he explains Marco Chiesa – The bubble which increases the perception of the aroma of the wine, the factor timesince a cuvée today has at least 3 years on the lees, and therefore gives even more sensations to the nose and the palate, and finally theAssembly which gives the possibility of assembling very different wines to have an incredible palette of tastes, aromas and personalities that cannot be counted. I always say that champagne itself doesn't exist, it's like a perfume, it's a construction of blends, grape varieties, terroir, personal stories, wine traditions. I can combine, for example, a Chardonnay from Reims, a meunière from the Vallée de la Marne… and so on… the possibilities are endless. There is no ideal champagne, but the pleasure of dealing with a unique and constantly evolving wine. This is why my advice to professionals is to recommend champagne according to the emotions they wish to communicate to the client or their consumption needs. Then, once we have identified the champagne for our occasion, we have to remain passive, let ourselves be carried away by the complexity of the sensations it knows how to give us".
"Champagne is an art form – he continues Church -. It's the intuition, the madness of a Cellar Master who knows how to build a taste that takes me on a journey… A construction capable of maintaining the identity of a brand, but expanding into many taste nuances. It's not a recipe, it's magic. Champagne is also like music: just as notes create infinite music, so three grape varieties create millions of champagnes".
And here is a possible tasting itinerary, which ranges from a standing buffet to a seated dinner, including music, food and movies.
Champagne Blanc de Blancs Henriot
We could define it, the "rationality of champagne". Mineral and complex, the Blanc de Blancs Henriot is the keystone of style Henriot. Mainly made from the Premiers and Grands Crus of the Côte des Blancs, including Mesnil-sur-Oger and Avize, it also includes 40% of the House's precious Reserve wines. It was only after resting for 4 to 5 years in the dark and cool cellars of Reims, under the watchful eye of Laurent Fresnetthe Cellar Master, who will be able to taste this 100% Chardonnay cuvée.
Less than 8g/l is dosed. The color is pale gold, sparkling and crystalline. In the glass, the perlage is lively and animates a procession of fine and delicate bubbles. On the nose, we find an intense minerality and freshness. Aromas of citrus fruits and sun-ripened peaches. A bouquet of fresh flowers; honeysuckle, orange blossom and a linden inflorescence. First fruity notes like lemon and dried apricot, then pastry; with a characteristic note of fresh butter. On the palate, it is dynamic, ample and powerful at the same time. The note of fresh lemon lingers on and melts into notes of buttery brioche, with a quince stem and acacia honey.
Recommended movie: TV series sherlock
Buffet pairing: with a small bowl of chickpea hummus and salmon eggs
Champagne Collard Picard
A 100% Chardonnay. The grapes chosen for the elaboration of this champagne come from the 4.2 hectares of Grand Cru between Oger and Le Mesnil, cultivated in organic farming. After pressing, only the heart of the cuvée is used (approximately 1,800 liters out of 2,050), fermented and aged in large oak barrels in contact with its own yeasts for more than 9 months. It then rests in the cellar for at least 3 years before being marketed. Very elegant nose with a clear mineral imprint, but also finely spiced, sweet and floral. Fat notes of hazelnut give even more complexity to an engaging picture, well played between tension and softness. Very fresh on the palate with a tasty finish. Exciting with very different dishes, from charcuterie to shellfish.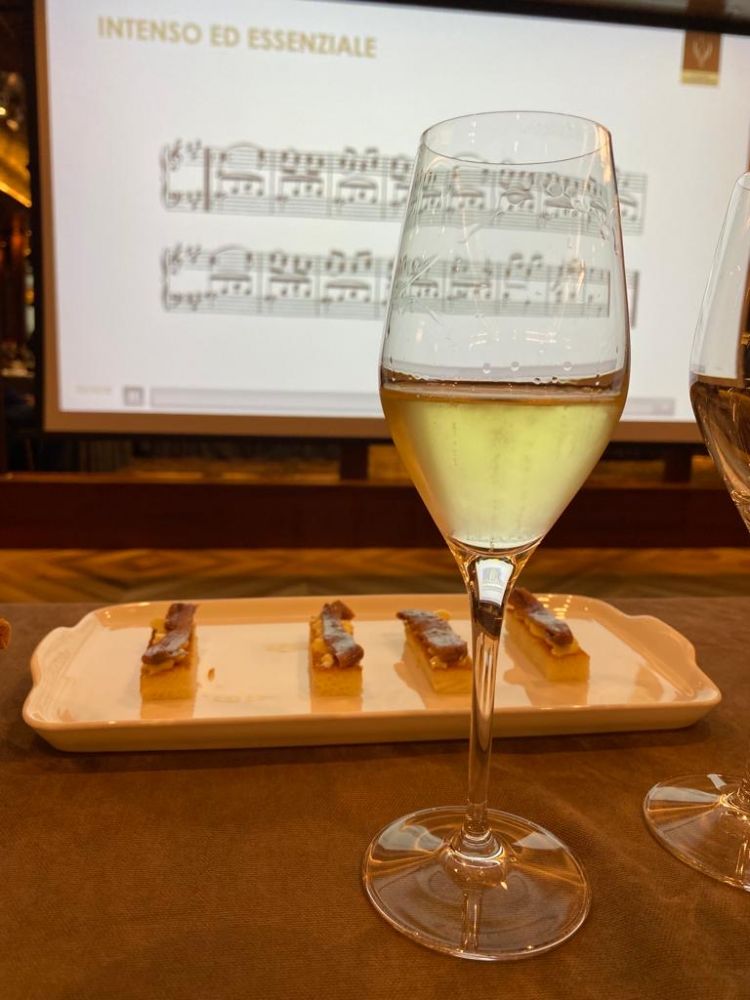 Champagne accompanied by the chef's bread, butter and anchovies Guido Paternello of the Pellico 3 by Park Hyatt Milano
Recommended music: Mozart, Sonata K310 coming soon
Twinning: with anchovy bread buttersimple but with quality ingredients
Champagne F. Remy-Collard
This traditional cuvée is a 100% meunier from a single vintage (2019). Bottling 2020 and disgorging March 2022. Vinification in vats and refining on lees for 2 years. It does not make wood. It is light, balanced and elegant, characterized by the typical fruity notes. The dosage is 6 g/l. Here we have more notes of vanilla and red fruits, a less pompous nose than the first two but a deep and multifaceted taste.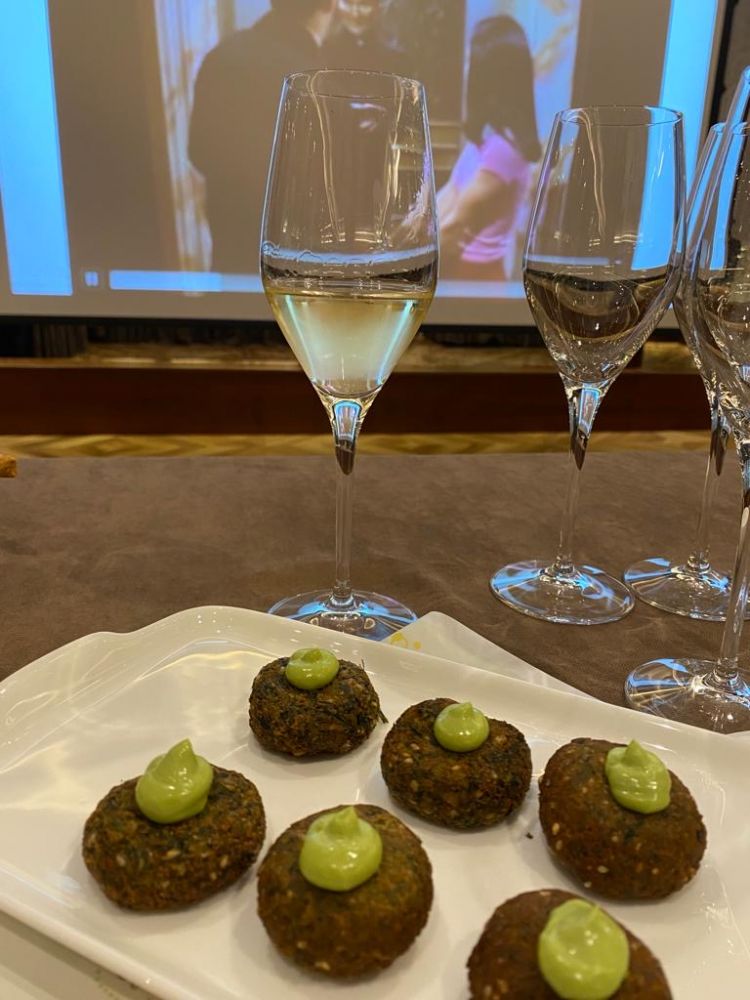 The champagne and the Felafel of the cook Guido Paternello
Twinning: Felafel with vegetable mayonnaise
Film: TV series Friends
Champagne Lallier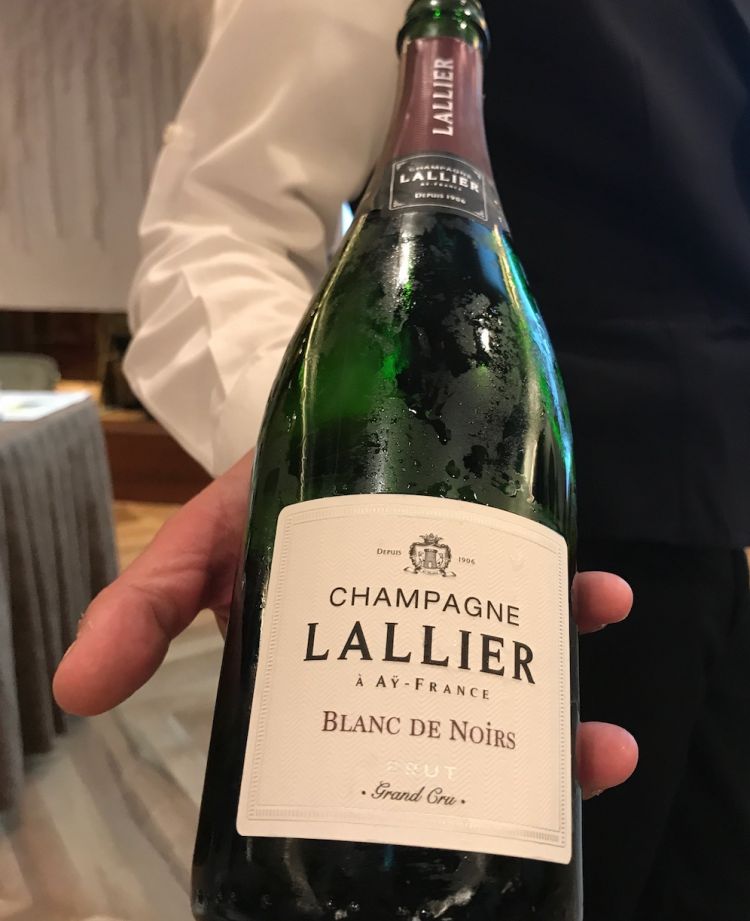 Let's go from buffet to dinner. Pinot Noir 100% Grands Crus from the Montagne de Reims Aÿ and Verzenay. Excellent structure. Lots of fullness and intensity. Eclectic sip and not monotonous.
Music: Rock
Pairing: Shrimps in brick dough, crispy on the outside, sweet and persuasive on the inside
Champagne Devaux
Pinot noir 55% for 10% vinified in red from the Côte des Bar and 45% Chardonnay from the Côte des Blancs. Aging in the cellar for at least 5 years. A beautiful salmon-apricot pink color with elegant perlage and brilliant reflections. Fresh aromas of small red fruits on the nose, which evolve towards floral notes. Intensely fruity finesse on the palate with delicate notes of currant, raspberry and apricot. The finish is long with a nice tone. Dominant aromas: currant, raspberry, white fruits.
Music: Keith Jarret, More from Tokyo
Pairing: Arancino and candied tomatoes
Champagne Brut Cuvée Rosé – Laurent-Perrier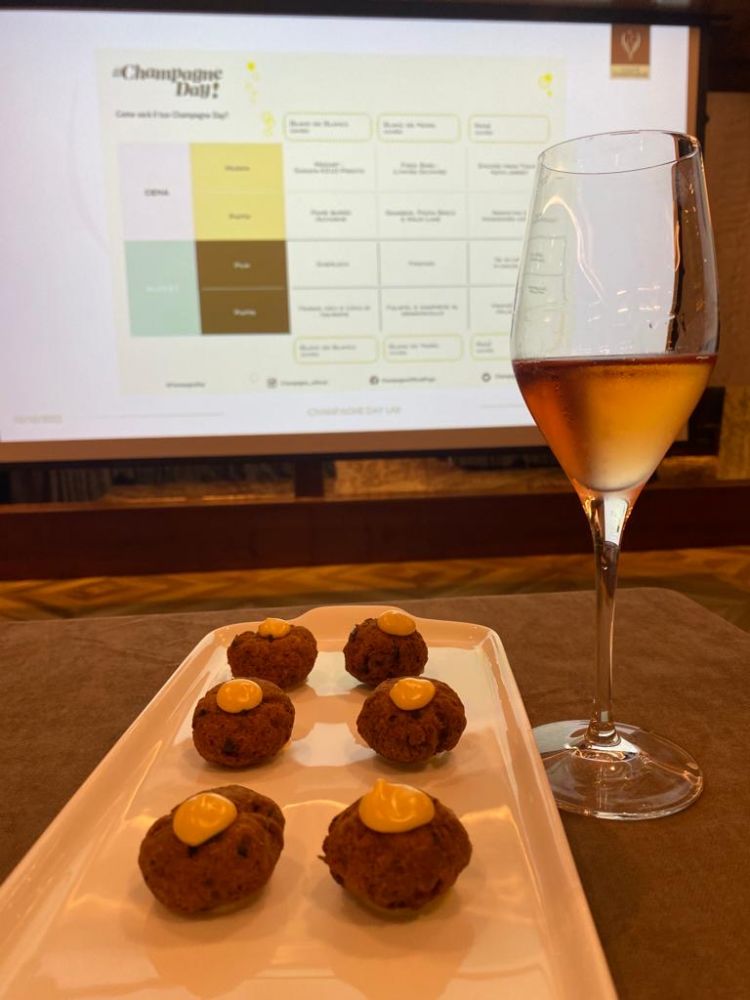 Rosé champagne and chef's mondeghili Guido Paternello
Fanfare finale with the Brut Cuvée Rosé – Laurent-Perrier. Brilliant salmon pink with a fine and persistent perlage. A fresh wine on the nose, with notes of strawberries, raspberries, currants, blackberries and morello cherries. The taste is fruity, mineral at the start of the mouth and gently round in the finish.
Film: If you leave me I delete you And Midnight in Paris
Pairing: mondeghili or meatballs
For more information on the Champagne Day Click herewhile to stay informed, discover and subscribe to our newsletter world bubbles here
.