Nostalgia? In. But I have the impression that today, September 26, 2022, exactly a century after the March on Rome in 1922, the Italians have a bit of it. And among the popular desires for self-sufficiency they come back to me, flamboyant, fascist recipes and Mussolini's soups.
Certainly nostalgia for the past on the wave of "it was better when it was worse" influenced the voting choices, but voters who remember how they lived under the regime are really rare, so we thought of proposing a gourmet roundup on the twenty years old kitchen and also give some ideas to the most creative (and melancholy) to vary their menus.
Minestrina and offal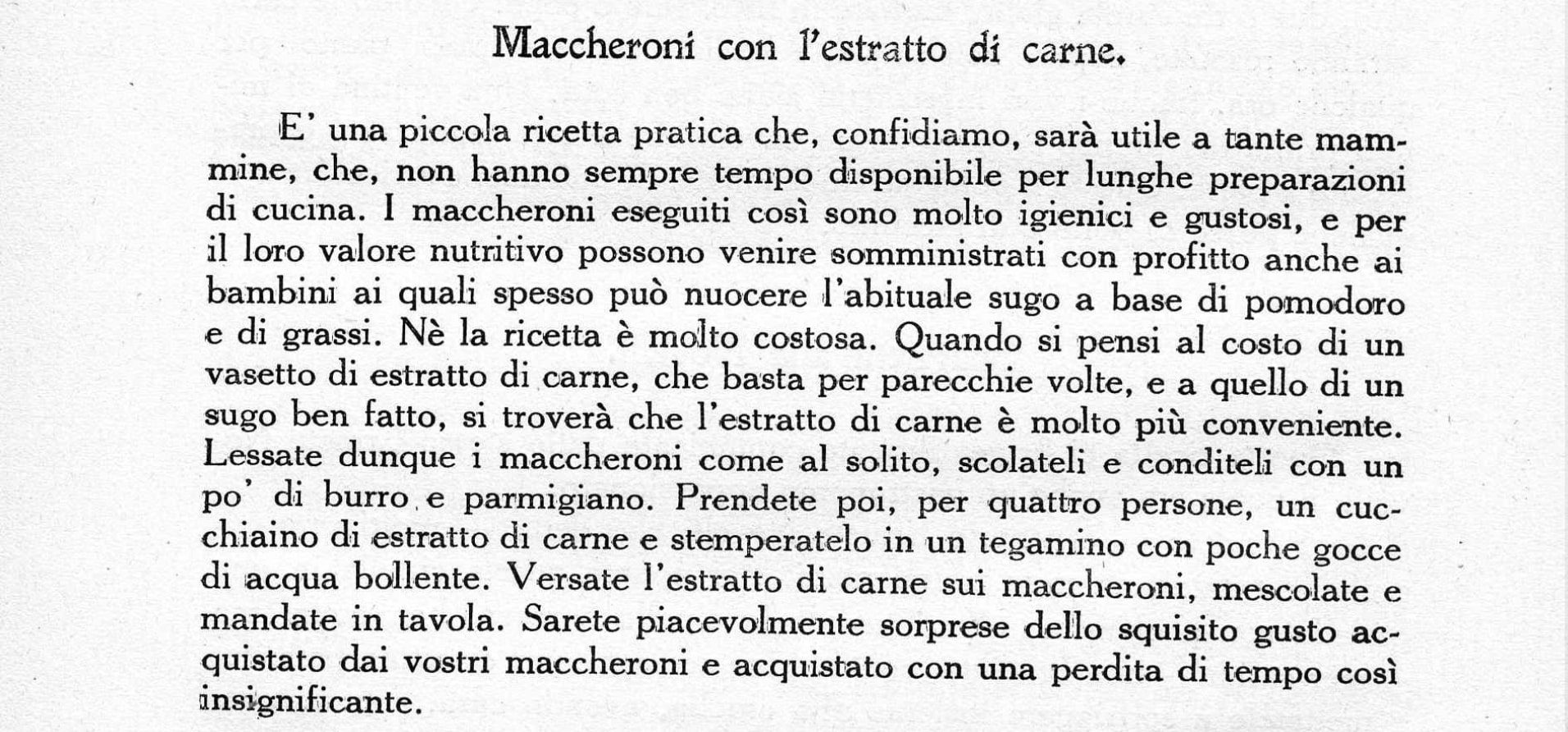 But the differences from today's cuisine do not stop at the first courses and the disproportionate quantity of dishes with all kinds of offal catches the eye, a long tradition of cuisine which has not known a deep crisis. only since the second half of the 20th century. Feet, heads, sweetbreads, livers, spleens, tongues, hearts, brains, ears and tripe have literally invaded recipe books and we are not talking about so-called poor dishes. but haute cuisine delicacies of which today the financier is one of the few survivors.
The first thing one notices when perusing cookbooks printed over the past twenty years is the sheer weight of some dishes that have now disappeared from restaurant tables and, in many cases, even more traditional families. I'm talking about the broths, soups and minestrines that have had a large place in cookbooks, far exceeding the advice for preparing a plate of pasta. To give an example, if you take The Wise Cook by Calisto Craveri from 1932 you will find 75 different types of broth soups (from semolina to tortellini, passing through small pasta and rice), 28 vegetable soups of all kinds against 8 pasta recipes, 2 baked pasta and 4 pasta timbales. Ada Boni's 1927 Talisman du Bonheur, a decidedly more modern manual, also has 47 types of spoon soups, 6 baked pasta recipes and 7 variations of gnocchi, compared to 18 pasta dishes. Among these, in addition to the classic spaghetti all'amatriciana or tuna, there are also masterpieces of speed and savings such as "macaroni with meat extract" simply seasoned with butter, parmesan and meat extract, which resemble the famous hot pot spaghetti by Nigella Lawson.. In short, in the 20s we were so far ahead that we went around, but if you are really nostalgic you have to put the broth on the fire.
Pasta Wartt
Before the dieticians, it was the futurists who declared war on pasta accused of being a brake on the body and mind of Italians destined to embrace a progress made of crackling engines and kerosene perfumes. "Pasta, although pleasing to the palate, is a traditional dish because it weighs it down, makes it ugly, deceives its nutritional capacity, makes it skeptical, slow, pessimistic" wrote Filippo Tommaso Marinetti in the Futurist Kitchen Manifesto of 1931. His intransigence towards pasta had not aroused much enthusiasm even at the time, so much so that some people dressed and made up like the poet were surprised by newspaper photographers while eating large plates of spaghetti.
The unjust penalties
For a few months between 1935 and 1936, Italy was subject to deliberate economic sanctions by the League of Nations because of the deliberate attack on Ethiopia. Simply put, a century ago we were Russia.
Some recipe books were published in record time to give practical advice to housewives who had to extricate themselves from the difficult task of finding alternatives to products that were becoming rare on the market. The most famous is called The Italian cuisine of the resistance (understood as resistance to the "unfair sanzoni") and the solutions were not always particularly brilliant, as in the particular economic version of the "green tagliatelle bolognese" seasoned without the classic ragù, but only with béchamel and sauté in the oven.
Colony recipes
The Italian conquest of a place in the sun also had a gastronomic implication and in the twenty years various recipes vaguely inspired by the African colonies circulated. They range from calf's head to tripolina (boiled and seasoned with tomato sauce, parsley, sage and lemon zest), tripoline spagnolette (sweet waffles rolled into a cigarette), dressed abyssinian, a kind of chocolate pudding and topped with whipped cream.
The most astonishing recipes, however, concern products from the colonies such as bananas which could be used to make pancakes, an unusual jam, but also more complex dishes such as "sausages with bananas" brought back by Adolfo Giaquinto in his family kitchen and pastry shop. from 1931 where the fruit is cut one centimeter thick, pan-fried with a little butter and used to accompany roast sausages with croutons: a real delicacy that no nostalgic person should miss.
Between mixtures and polybites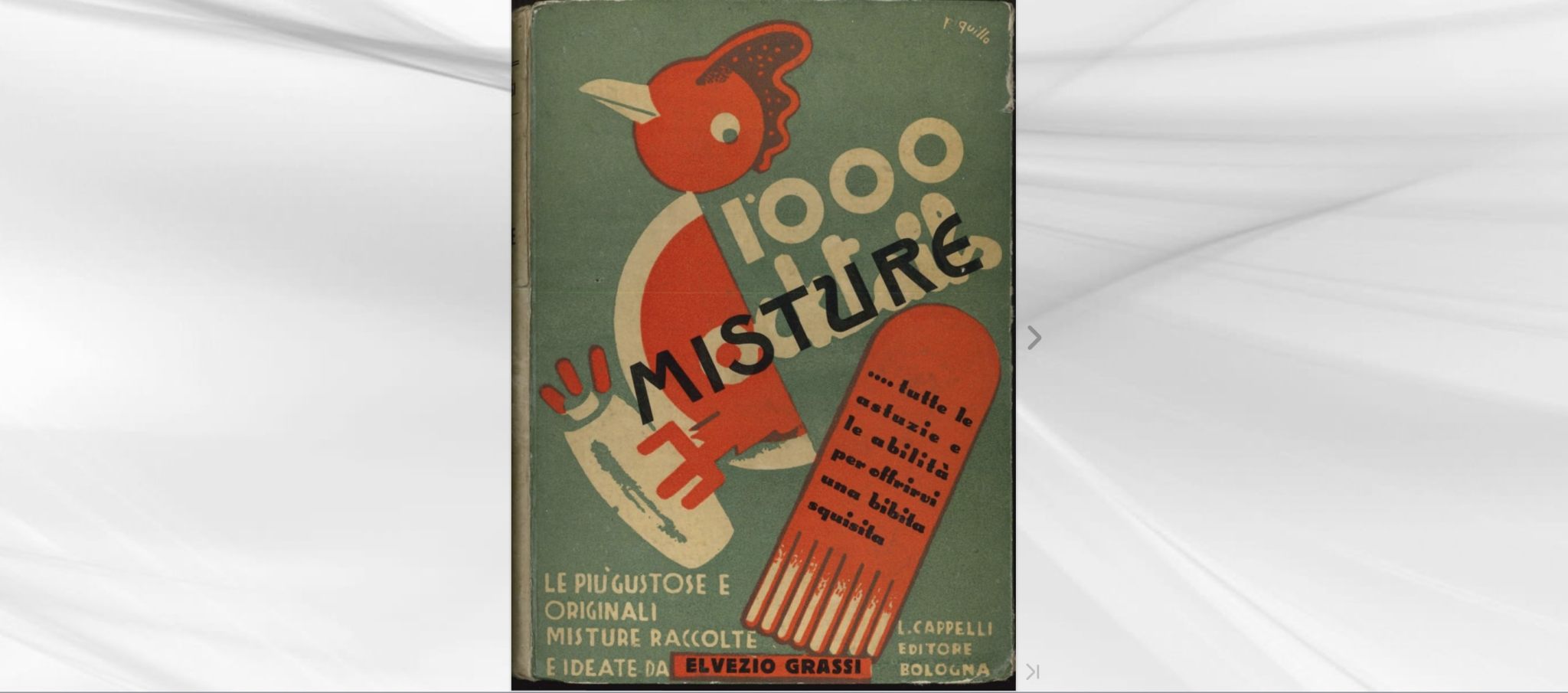 "Splash, splash, splash. Green, white, red, blue yellow red red red…. Ticks ticks ticks ticks, btrtrt…. Here is the cocktail, the "rooster tail"" begins the cookbook by Elvezio Grassi from 1936 entirely dedicated to cocktails entitled 1000 mixtures.
These are the golden years of the spread of mixology in Europe and the decisive momentum is largely due to American prohibition which, from the beginning of the 1920s, had forced many bartenders to find employment abroad. Futurists had renamed them polybibites (not to be confused with the Harry Potter polyjuice potion) and seemed to greatly appreciate their infinite combination possibilities. In addition to the great classics, Elvezio Grassi also inserts a small chapter on the "super modern cocktails" which he baptizes with names dear to the fascist era such as Adua, Ascaro, Maresciallo de Bono and Maccallè, obviously made with very Italian liqueurs , vermouth and bitters.
Mussolini's Soup

Among the culinary titles we obviously could not miss those praising the Duce which, however, are surprisingly few. It is known that Mussolini had a delicate stomach and did not indulge in the pleasures of the table, despite a clear preference for the classic specialties of Romagna and this is perhaps the reason why the dedications of dishes to his name are rare.
Despite this, the temptation must have been too strong for Cesare Tirabasso who published Le guide de la cuisine in 1927, in which he also included the recipes of "Littorio soup" and of "Mussolini soup".
Despite their name, these are two extremely elaborate dishes, so much so that the first begins with a justification from the author: "this soup is a bit complicated; however, if you are careful, it will not be difficult". Mussolini's soup uses as a base a clarified consommé, that is to say a "double" meat broth which instead of water uses another broth (a preparation that alone takes you a day) served with crepe squares and petit choux, both made with mashed chicken breast added to the mix. Obviously it must have seemed to the author an excellent idea to dedicate this light and substantial recipe to the Duce.
Looking back, we can safely say that the title was apt to at least be unnecessarily laborious and difficult to replicate.
At least until today.