Those who know the East Village and stroll East Third Street, perhaps to the Newyorican Poets Cafe a few months ago, are faced with a new scene: small groups of people chatting outside the Gaia Italian Café. The small storefront Gaia Bagnasacco it is indeed located right in front of one of the community gardens of the district, and often those who come to have a sandwich or lasagna take advantage of it and go to enjoy it, other times instead the customers sit on the chairs or the bench in front of the tricolor sign. In all cases Gaia Italian coffee inspires an irresistible friendly atmosphere. It also acts as a detonator of conscious choices. Gaia Bagnasacco herself explained why.
Where did you learn to cook?
When you grow up in an Italian family, chances are the tradition will be taught to you by the grandparents with their availability of time and love, which often results in a nice hot meal ready or a recipe that you easily run like a game; and there is also a good chance that the unfolding of life, with its problems, takes place around a table or in the kitchen, the true "hearth" of the house. And all around a table I learned from my grandmother first then from my mother (generation after generation as every tradition teaches), to prepare food, almost a ritual perpetuated over time : pleasure first and then knowledge. And always around a table we discuss politics, life, friendship, love as if conviviality opened us up to riches and lessons for the soul. I never thought that one day I would make a career out of it. Maybe I should have known, because my grandmother gave me the name Gaia.
A name that has special value for you
Gaïa is Mother Earth, it comes from the Greek and I think that today we have to look before acting according to our habits: it would be nice to get rid of culinary and non-culinary intellectualism once and for all, to replace it with the simplicity of that frees itself using the wisdom of tradition which sometimes means giving up having it all right away, to make way for communal love, just as the earth continues to repeat its fruits even though it is more and more tired. Respecting the seasons created a time of rest for the earth… but today there seem to be no more intervals, only a frantic race to get what we need.
Something you've been thinking about for a long time…
Over the past twenty years, observing what we are creating in the world as humanity, I have matured in me the desire to defend ourselves from the excess that we have let ourselves go, from the centrality that man has imposed himself in the Universe .and at the same time to watch and protect Mother Earth, so fascinating and generous in her dynamics and so abused by us humans and all our needs. To look to the future, we must stop and also review the way we eat, limit ourselves in our purchases and make conscious choices. We can ask ourselves before buying: "Is it necessary?
And you brought that back to your club?
Yes, the idea of ​​the Gaia Italian Café stems from the desire to spread Italian culture and culinary tradition, but also education and respect for the environment, and comes from the need to create a community. I come from a classical and humanistic background: my studies have always led me to deal with questions aimed at the knowledge and care of man, his nature and his relations with the universe and with the other at from himself.
What concepts do you put on the table in practice?
Since its creation, the Gaia Italian Café has printed, on the first page of the menu, some key concepts on which the company has created its philosophy of action and reaction, stimulating its community to question current problems and to do with joy. around a table and among friends, perhaps. Basically, Lucretia himself teaches us in "De rerum natura" how doctors, when they give children the repugnant absinthe, sprinkle the rim of the glass with honey, so we too try to educate and educate ourselves to a broader vision while playing.
What are these key points, can you tell us a few?
Here is an example of some points indicated on the menu
GAIA IS MOTHER EARTH
We want to celebrate you. We are guests on this earth, we don't own it and we think we should learn to respect it more.
WE ARE A COMMUNITY
Drop the ego but keep your personality. We are a community and we must help each other, share and support each other. Bread is limited only when you want more.
WE ARE WHAT WE EAT
Food affects our mood and our relationships with people and the environment. We choose quality and freshness over quantity and the Mediterranean diet as the primary resource for our body and for its ability to balance the ingredients and therefore the rhythms of the earth.
WE COUNT THE BLESSINGS
And not what we don't have or can't have. We often forget to thank Mother Earth and take so much for granted. A grateful approach and conscious use of products can benefit everyone.
In the past, various New York newspapers such as New York Magazine and New York Post have reported on your ethics. Can you give us concrete examples of how this develops in your restaurant?
The idea behind it is to consider the possibility that fresh food will run out, sooner or later, since it cannot be produced continuously just to create economic profit, and as much as a store is customer service, the soul of the company cannot deviate from a necessary ethic. Our customers know that the lasagna can run out at some point and they have to wait until the next day or that the bread we prepare must also be shared with other customers so that it cannot be requested twice or more than we give.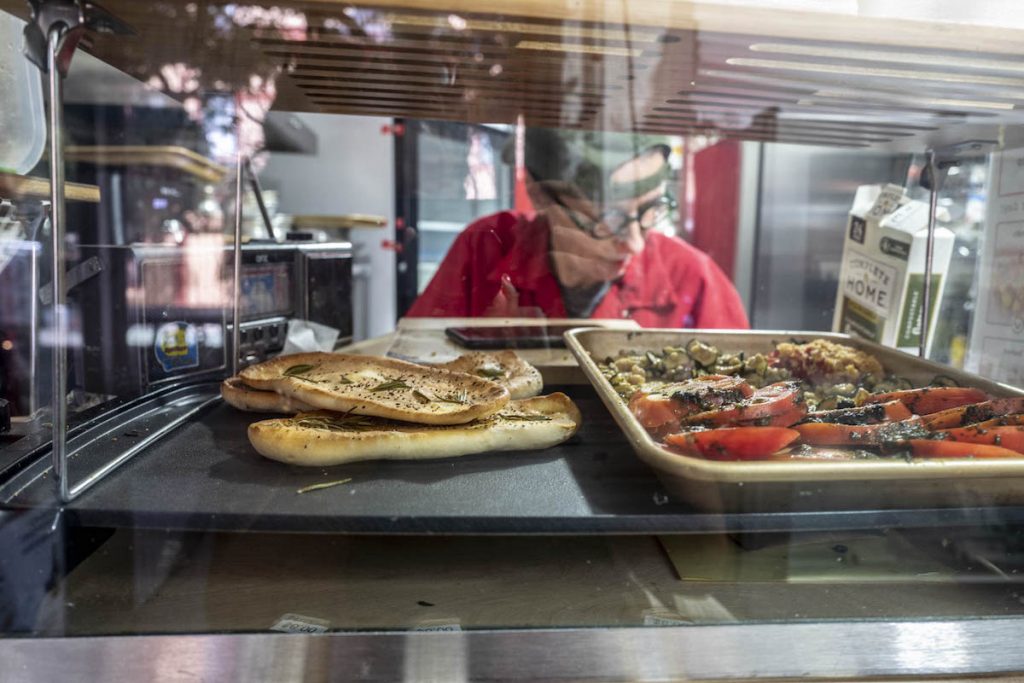 But is it also related to the service?
The Gaia Italian Café was born from the ashes of another place of the same name, which was for almost ten years on Houston Street, there at the beginning they also refused to do take-out meals, and they only invited the experience to the interior of the place. Not only that: we had even removed the service, because being served sometimes creates a feeling of superiority and social division in people; customers ordered at the counter where they received plates, glasses and cutlery, while the dish was brought to the table.
Now you have changed: take only food. But what kind?
Yes, the place is very small and only operates for take out. We make sandwiches, but also lasagna, dumplings, stuffed peppers…
These are choices that are sometimes difficult to make people understand. How do you fit into the East Village?
After a rocky start here in the US, where service is everything, I'm very grateful to the community that resisted those calls and actually rang the bell by bringing in more customers. Around this formula was born Il Gaia Italian Café, a new small local and this time only for take-out, and using strictly biodegradable containers. I believe that in life the relationship with the community and with the neighborhood is fundamental in order to develop a feeling of belonging and love for what we live and what surrounds us.
Who do you share this experience with?
From the beginning, we have also sought to train young people and women from all cultures, people who have a passion for cooking and a desire to give love to the community. We are more interested in that than in the Italian spirit of the staff. For us, it was important to approach the experience of Italian cuisine and to create growth paths for different young people, even in difficulty: hyperactive or autistic or with attention deficit, because cooking teaches a lot about life and how to be part of a community but also how to become aware of oneself and one's potential.
How was it?
It is a joy to be able to turn to young people with confidence and teach them to correct mistakes and to correct themselves, not to lose confidence, to ask for help if necessary: ​​everyone is called to face actions and methods that require attention, logic, creativity, observation, discipline and so much love. It's been 13 years – for example – that my chef, Kevin Espinal has been with me, he arrived at 16 and now he is the father of two daughters, he is a lover of cooking and it is my right arm who supports in the business and that every day is at the forefront to serve customers with love.
Gaia Italian Cafe – USA – New York – 226 East 3rd street – +100 646 350 3977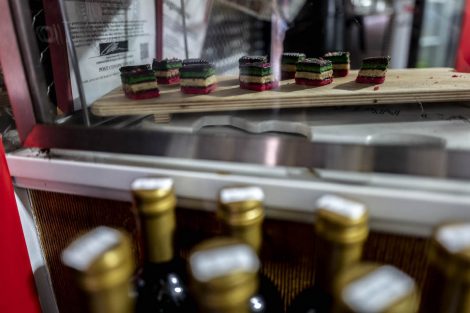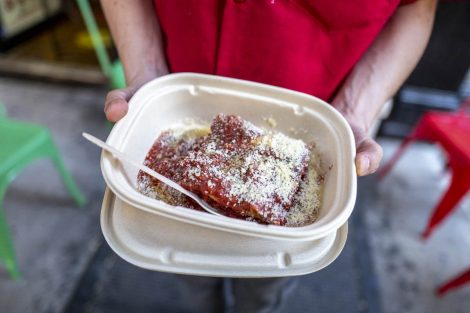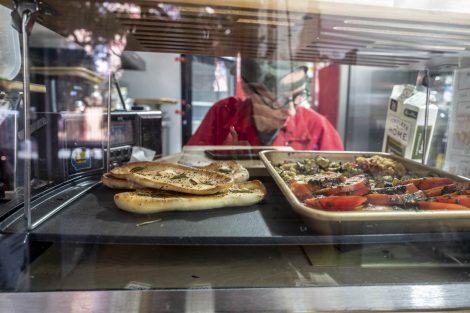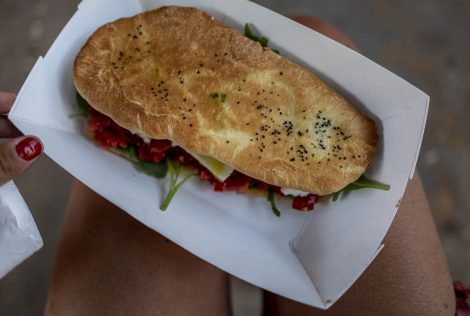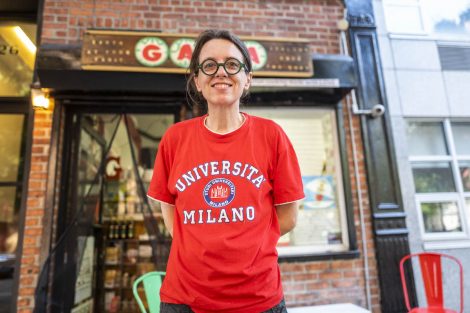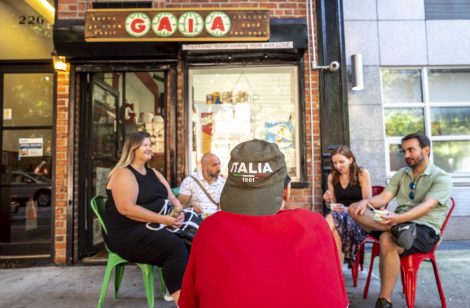 curated by Francesca Magnani