"When we opened, the idea was to have a bistro. But, having experience in gourmet restaurants, I immediately imposed myself with this line. Nobody had anything to complain about and so I went ahead ": thus began a beautiful interview, dated January 2021, of Gabriele Zanatta with Karim Lopez. Who was then, since the inauguration of January 9, 2018, the head of the Gucci Osteria by Massimo Bottura from Florence.
A brand to which, from the beginning, he contributed to give a strong, international and cosmopolitan identity as it was in the wishes of the same Bottura and of Marco BizzarriPresident and CEO of Gucci. He also won his first Michelin star in December 2019, a goal no other Mexican chef had achieved before.
From March 2022 Lopez is flanked by her partner, Takahiko Kondofirst pastry chef then head sous-chef of theOsteria Francescanawho left Modena to join Florence Karime and the little one Hana Chanborn a little over a year ago.
Karime And taka very soon they will be the protagonists of two truly unmissable dinners in the Hub of via Romagnosi 3, the next Thursday 13 and Friday 14 October. is exactly Karim Lopez to tell us the spirit with which she and taka they chose the menu for these two dinners.
Purple corn tostada
"At Gucci Osteria – he told us – what we do is invite guests to travel the world with us. taka she is Japanese, I am Mexican, now we live in Italy and we have had many experiences in other countries, together and separately. We believe that it is the encounters between different cultures that advance the history of humanity and by working in a city like Florence, which has always been culturally very open to the whole world, this approach is even more important. For the menu that we will take to Milan we have thought of a trip that will take us to Mexico, Japan and that will end in Tuscany".
The cannolo that wants to become a cannelloni
The menu will open on a dish symbolizing the cuisine of Karim Lopez to Gucci Osteria: Purple corn tostada: Purple corn tostada with Adriatic bonito, fragrant and citric. "This dish was born initially from a stimulus of Massimo Botturawho wanted me to offer an interpretation of a Mexican classic called Huevos Rancheros. But for me it's a breakfast plate, I couldn't find a key that would satisfy me. Then I had the idea for this tostada: I use fantastic Italian ingredients, like bonito, lemons from Syracuse, purple corn that you find in Perugia. It is therefore an Italian tostada, made with a Mexican technique".
Continue with The cannolo that wants to become a cannelloni: Chianina ragù beaten with a knife, salted ricotta and cannellini beans, a dish that has a beautiful and funny story. "At the base of this dish is the desire to play, we were inspired by the confusion he made taka, upon his arrival in Italy, with a few words that sound alike: cannolo, cannellone, cannellini. So we created a cannolo reminiscent of the Sicilian classic, but made with cannellini beans as the main ingredient. And the ragù filling makes it a cannelloni."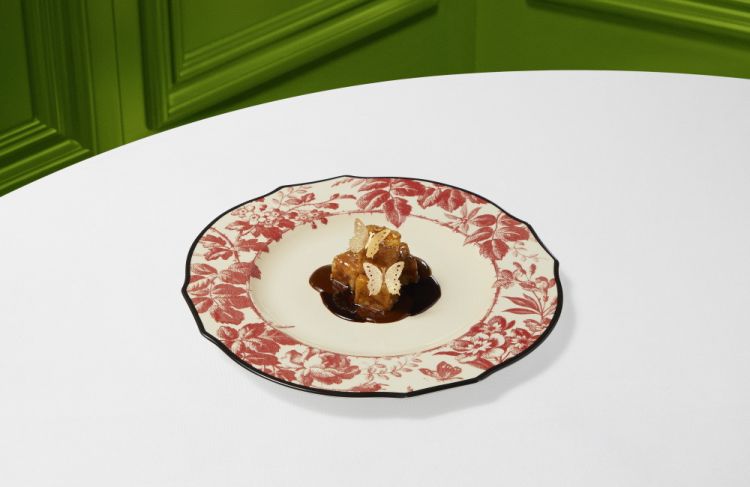 Charley Marley travels to Mexico
Charley Marley Trip to Mexico: Eggplant, Mole and Chianina it is rather a dish inspired by a dessert of Gucci Osteriaa dedication to Charlie Botturason of the chief Franciscanwho has a great passion for chocolate: "During a trip to Mexico, we met a lady who made a Mole really delicious, with a very unusual ingredient for this typical preparation of Mexican cuisine, eggplant. In the poblano mole instead, chocolate is a very important ingredient, which is why we came up with the idea for this meeting, given that aubergines and chocolate are a very interesting and also very Italian combination".
Schiacciatina and grapes
Finally we return to the starting point, the new house of Karim Lopez And Takahiko Kondo, Tuscany. Where crushed grapes with grapes are very popular this season. So this is it Schiacciatina e l'uva: Our version of Schiacciata con l'uva served with fennel ice cream. "It's a Mexican and a Japanese take on this Tuscan classic, a sincere and heartfelt tribute to the land that welcomes us."
Karim Lopez And Takahiko Kondo they will be one Identity Golose Milano Thursday 13 and Friday 14 Octoberto reserve your place, visit the Hub's official website.
.