Its incredible goodness will surprise everyone in a few minutes, it may seem that a classic tiramisu is not, here is the recipe that will drive everyone crazy.
Today we are creating together a special dessert, greedy as ever and particular in the mixture that composes it. It may look like a classic tiramisu but it is not, this recipe will literally drive everyone crazy, here is the Mascarpone Cream Cookie Dough Tiramisu, without coffee and without cookies, a revolutionary recipe that will blow your mind everybody.
It comes together quickly and the flavor is too amazing not to try. We are going to make a simple cocoa paste that requires very quick cooking of a few minutes. To make it we will not go with the usual mascarpone cream but we will make a classic crushing cream to which mascarpone will be added, in short a crazy idea but if you try it you are guaranteed to fall in love with it. To finish, a delicious chopped hazelnut will complete this delight accompanied by a touch of cocoa that will fit perfectly into the whole, the result is indescribable.
Impress your guests with a recipe that may seem obvious, it will surely be a success
How about trying it out? The perfect recipe is just waiting to be tasted. It will make your occasions even more special or your evenings pleasant and delicious. So let's not get lost in chatter, immediately write down the ingredients, follow the very simple step-by-step procedure and in no time you will have a truly original dessert that has never been tried before. Let's start right away.
See also Apple pie, what Snow White is preparing is just that
To read also: Truffle cake, a very practical recipe to make the perfect dessert in a few minutes
Preparation time: 20 minutes
Cooking time: 6/7 minutes
Ingredients for about 10 servings
For the cocoa cookie dough
4 medium eggs
25g cocoa
35 g flour 00
10g of honey
80g sugar
15g water
1 teaspoon vanilla extract
For the cream
500g mascarpone
500ml milk
75g potato starch
75g sugar
4 eggs
20ml vanilla extract
1 teaspoon of cocoa
80 g crushed hazelnuts
Decorate
80 g crushed hazelnuts
Preparation of Mascarpone Cream Cookie Dough Tiramisu
To make this delicious and innovative dessert, start by preparing the cookie dough. Separate the egg whites from the yolks, in the bowl with the latter add 30 grams of sugar taken at the indicated dose, plus water, honey and vanilla extract. Mix everything well until the mixture is light and fluffy. Separately in a bowl whisk the egg whites not too firm with the rest of the sugar, add them to the yolks with circular movements from bottom to top. Finally add the sifted cocoa and flour little by little to the mixture, stirring continuously with circular movements. Cover a baking sheet with parchment paper, pour the preparation flush with the surface and bake in a preheated oven in ventilated mode at 220 degrees for 6/7 minutes. Once cooked, take it out of the oven, cover it with cling film and let it cool completely.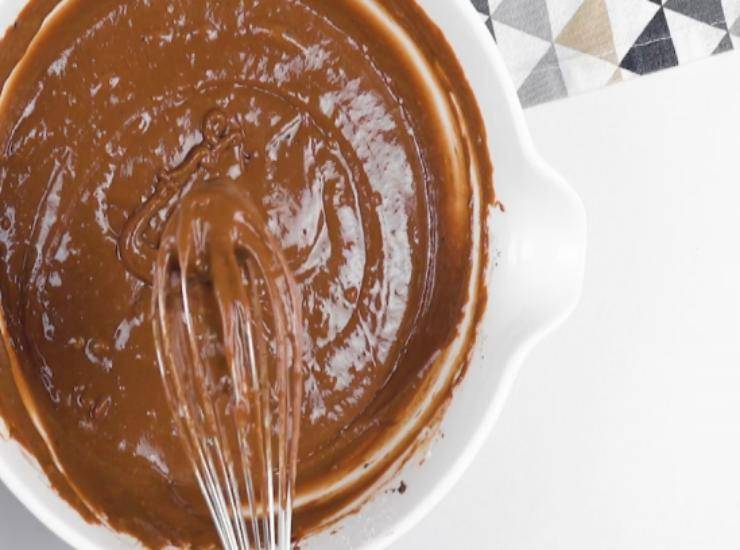 Meanwhile, prepare the cream. In a saucepan, heat the milk with the vanilla extract, just let it boil. Separate the yolks from the whites and separately in a bowl, whisk the yolks with the sugar and potato starch using an electric whisk. Stir until you obtain a light and frothy cream and gradually add the hot milk to the mixture while continuing to mix. Then bring everything back to the heat and allow to thicken, then remove from the heat and pour the cream obtained into a bowl, cover it with a little cling film on contact and let it cool completely.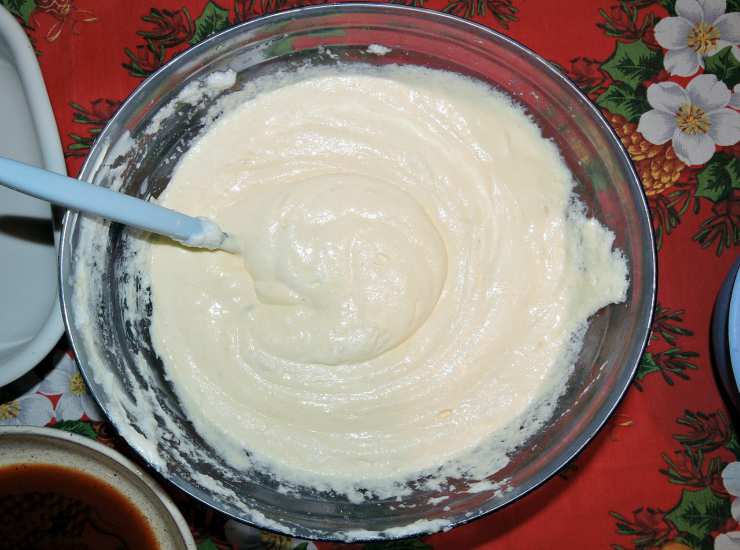 Once the dough and the cream have cooled, we continue the preparation. Add the mascarpone, crushed hazelnuts and a little cocoa to the cream. Using a whisk, make the mixture homogeneous and set aside. Divide the ready dough into 3 parts and place the first layer on a base, with the wet and a board sprinkle the surface and cover it with a layer of cream, do the same with the other two layers and finally decorate with hazelnuts chopped. Store the tiramisu in the refrigerator until ready to serve or at least a few hours before enjoying it. Enjoy your meal.
To stay up to date with news, recipes and much more, continue to follow us on our profiles Facebook And instagram. If, on the other hand, you want to take a look at all of ours VIDEO RECIPES you can visit our channel Youtube.