One of the most anticipated events of this fifth edition of the Milan Wine Week is the award ceremony dedicated to the world of catering and wine retail for the best wine lists that more than 300 national companies presented to a jury of journalists, sommeliers, critics, experts in the sector, chaired by Andrea Grignaffiniand coordinated by Irene Fornideus ex machina of this project.
Federico Gordini
Federico Gordinifounder and president of the Milan Wine Week, announced from the stage of Palazzo Serbelloni: "We are proud to be able to reward the Italy of wine through wine lists that breathe work, experience and a lot of passion. I thank the jury who, for more than four months, worked to select the 100 best Italian wine lists divided into 10 categories. My organization and I thought it was right to institute special awards as well."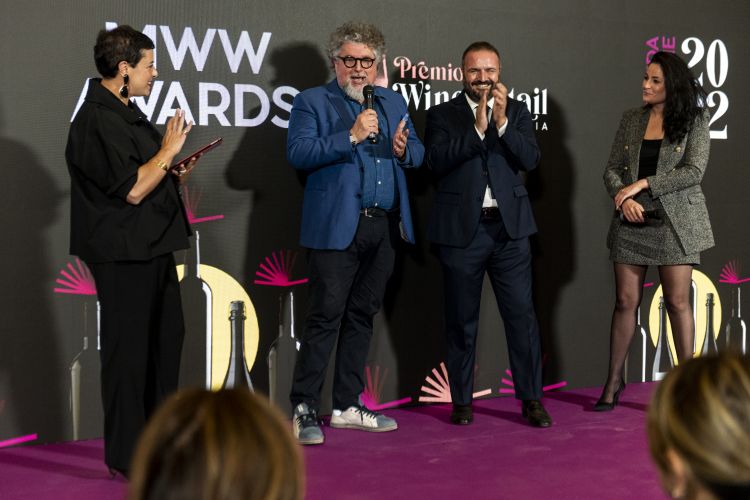 From the left, Francesca Barberini, Andrea Grignaffini, Federico Gordini And Irene Forni
An evening hosted by Francesca Barberini which saw all the protagonists of wine from all over Italy and the 15 judges including our lady of wine take the stage, Cinzia Benziwhich specifies: "The work behind this prize is enormous, the coordination of Irene it allows each juror to work independently and the pure algebraic sum of the votes generates the official ranking. It is very important to recognize and reward the work of those who create a wine list, of any category, because the success of a restaurant and a great kitchen cannot be limited to the menus. The list of wines, spirits, cocktails is the synthesis of a long work of people and must be recognized".
The award categories are restaurants with 1, 2 and 3 Michelin stars, restaurants gastronomytaverns and trattorias, bistros, wine bars, hotel restaurants, pizzerias, ethnic and fusion restaurants.
Below is the list of winners:
Three stars
St. Hubert
Wine shop Pinchiorri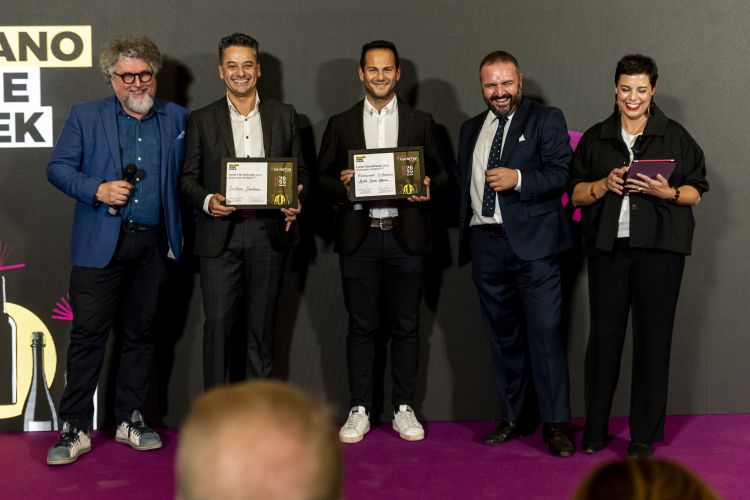 From the left, Andrea Grignaffiniin the center the winners of the two three-star Michelin brands, Wine shop Pinchiorri And St. Hubert, Federico Gordinifounder and president of the Milan Wine Week, Francesca Barberini, who presented the event
Two stars
Restaurant Caino
Il Pagliacco Restaurant
Dani House
Harry Piccolo
Antica Osteria Da Cera
La Madernassa Restaurant & Resort
Trout
Ground
Castel Gourmet restaurant
Restaurant Arnolfo
A star
Change
Trattoria al Cacciatore of La Subida
King Mauri
Flag
La Caravella dal 1959 Restaurant-Museum
hyle
Apostelstube
Il Pellicano Restaurant
The Palagio Four Season Hotel
Gastronomy
Langosteria
Le Petit Bellevue and the Bellevue restaurant with its terrace
Restaurant Andrea Aprea
Restaurant of the lake
Wood
Mix4
Restaurant 3K
Rinaldi at the Quirinal
military restaurant
Osteria-Trattoria
Wine shop Marcucci
Abraxas Tavern
Coronate Trattoria
Countryside trattoria
Ciz Cellar and Kitchen
Civic 25
Trattoria Serenella Le Tre Lasagna
La Brinca
Cellar Valpolicella
Trattoria Falconi
Bistro
Al Carroponte
Divine Place Wine Bistro
Franceschetta 58
Italian Cuisine Luciano
The Bistro El Molin
Count's Tavern
Uovodisepia Milan
Cooking.Eating
Mix Bistro
Cafe dell'Oro
Wine bar
Enoteca Baldi
Tavern del Gusto
The wine room
Cellar Quattroruote
old coffee
Honest
Under the wine bar
Helen
The Trimani wine bar
Cafe Demetz
Hotel restaurant
Restaurant L'Angolo D'Abruzzo
Therasia Sea & Spa Resort
AO-Restaurant
Home Santre Dolomyths
Hotels in Winker
What hotel
Pineta Natural Station
Plan de Gralba Hotels
Hotel la Perla
Pizzeria
Pizzeria Salvo
Trapizzino The Cellar
Agripizzeria Casaletto
From Ezio
Lipen Wine Bar
Apogee
Vurria
The lesson
Corner pizzeria restaurant
Ethnic fusion
Me Omakase
Mu Dim Sum
Oriental Attitude Gong
Restaurant Serendepic
pink belt
Ba Restaurant
Milan Bentotheque
The Wine Retail awards were given to:

wine cellar: Wine merchant of Chianti

Distribution: Pilgrims

Online wine shop: 3k Wine

Restaurant chain: Trapizzino
Also rewarded with special prizes:

Best sommelier under 35 Consortium Chianti Classico: Sebastien Ferrera

Lugana Best Professional Wine Consortium: Valentina Bertini

Best Enoweb Wine Service – Group E: Villa Maiella*

Memoir of Piero Prenna S. Patrignano: Anma Wine Bar

MILLESIME 2.0: A NEW WINE LANGUAGE Carrefour: Terra Moretti Group

Milan Wine Week Career Award: Hans Terzer

Promotion of the territory Italy Milan Wine Week: Signorvino

Narration Vendemmie.com: Paolo Trimani
An evening that highlights a clairvoyant intuition of Gordini duly acknowledging the dedication of the operators of the sector who celebrate the great coats of arms, but make known the trends and new emerging wine realities. We just have to cherish this selection, try the award-winning brands and wait for the third edition!
.