The link between cinema and cooking is undeniable. In the history of cinema, there are countless films in which food is the protagonist, or in which it takes on a symbolic meaning, a stage presence on the set that often reinforces the concept, or the links, that we wants to show.
How to forget the famous automatic feeding machineso the poor man is the guinea pig Charlie in Modern times (1936), tested to keep working even during the meal and thus increase production and income. WHERE The big frenzy by Marco Ferreri (1973) where four suicidal men lock themselves in a villa and decide to eat until death, a critique of consumerism and unbridled capitalism.
Even animated films have not remained immune to this link with cookinga sin the Lady and the Tramp (1955) in which a plate of spaghetti with meatballs is the source of the first romantic kiss between the two gentle dogs, Ratatouille (2007) the cute mouse capable of reviving even the most stubborn food critic's childhood emotions with his dishes, or one of the most heartbreaking scenes in animated cinema: the poor ostriches that end up in the belly of the walrus that had trapped them Alice in Wonderland (1951).
Pulp Kitchen, Recipes from Quentin Tarantino's movies
With Pulp Kitchen, recipes from Quentin Tarantino's filmsthe book written by Silvia Casini, Raffaella Fenoglio and Francesco Pasqua published by Trenta Editore, the authors tell us about the close relationship between the cinema of the famous director and food, then offer us many tasty recipes that we can try at home, accompanied by many curiosities about the films of the famous Tarantino. But let's go in order and first get to know the authors, who published, again for Trenta Editore, Tea with Mr. Darcy (2020) The enchanted kitchen (2021), 50 shades of coffee (2021) and Indomitable in the kitchen (2022).
Silvia Casini he works as a project manager at the International Institute of Cinema and Audiovisual Gillo Pontecorvo and Sandro Silvestri, and collaborates with various newspapers and websites. Raffaella Fenoglio is a foodblogger author of the foodblog Tre civette sul comò, co-founder of Magazine upside down and is a founding member of PENELOPE ODV., an association active for gender equality. Francesco Easter is the author of the short films Just kiddingwinner of the Manhattan International Film Festival) e Countdown (winner of two Nastri d'Argento) and worked as a screenwriter for the film Copper (2019).
pulp kitchen is made up of eleven chapters devoted to each of Tarantino's films(the authors also wanted to insert Four bedrooms (1995) whose director directed episode 4 The Hollywood Man), in addition to delicious recipes related to the film, plus a brief but informative introduction to the book and an interview with Luca Biagini (Tarantino's voice actor in hyenas). So, before we embark on our culinary experiments, we can discover interesting curiosities about the Tarantine cinema, anecdotes and backgrounds that bring to our memory the unforgettable and emblematic scenes of the films.
For example, while you are trying your hand at preparing a tasty sushi from Hattori Hanzo whose recipe is in pulp cooking, you can find that turn Kill Bill I (2003) 1700 liters of fake blood were neededwhere Christopher Waltz fell from his horse and fractured his pelvis before filming began Django Unchained (2012), so that Jamie Foxx decided to give him a saddle with a built-in seat belt, while you enjoy a nice plate of beans with toast.
There are many recipes present in pulp cooking. sausage pancakesin which Detective Holdaway (Randy Brooks) eats hyenas (1992), al aldo sandwich (brad pitt) of Lieutenant Raine of Inglourious Basterds (2009), or maybe you prefer the nachos of stuntman Mike (Kurt Russell) in Grindhouse – Death Proof (2007), I macaroni and cheese that Cliff (Brad Pitt) is heating in a saucepan in Once Upon a Time in… Hollywood (2019), and finish your dinner with delicious orange caramel pancakes (pulp Fiction 1994).
But when you eat well, drinking well is also a good habit, etc pulp kitchen are here cocktail recipes to accompany your dishes. One could try to make a delicious Ordell-style screwdriver (Jackie Brown 1997), a bourbon tea (Django Unchained), Where finally find out what a $5 milkshake looks like.
Pulp Kitchen, recipes from Quentin Tarantino's films is a pleasant, fluid and curious book but above all, useful for those who have lost their passion for cooking or want to bring a bit of cinematic fantasy to their tables, with simple recipes within everyone's reach. It is also a book that not to be missed in the library of a true cinephilewhich absolutely cannot miss everything there is to know about Quentin Tarantino's filmography and which is told in pulp kitchen.
But after all that talking about eating, I would be sorry if I did not end the article by sharing with you at least one of the recipes from the book and my choice fell on bacon pancakesdish that Vincent tastes while Jules talks about his redemption:
For a plate of pancakes:
1 egg
150g flour
220ml buttermilk
40g of butter
10g of sugar
1/2 tablespoon baking powder
1/4 teaspoon baking soda
10 slices of bacon
seed oil
salt
In a bowl, sift the flour, sugar and a pinch of salt, along with the baking powder and baking soda. In another bowl, beat the buttermilk, melted butter and egg. Add everything to the flour mixture and mix: the dough should be a little lumpy- Grease a hot pan with the seed oil and, with a ladle, pour the mixture to make pancakes. When you see bubbles forming on the surface, flip with a spatula and cook for another minute. Sizzle the bacon in a hot skillet until crispy. Serve the pancakes with the bacon on the side. Enjoy your lunch!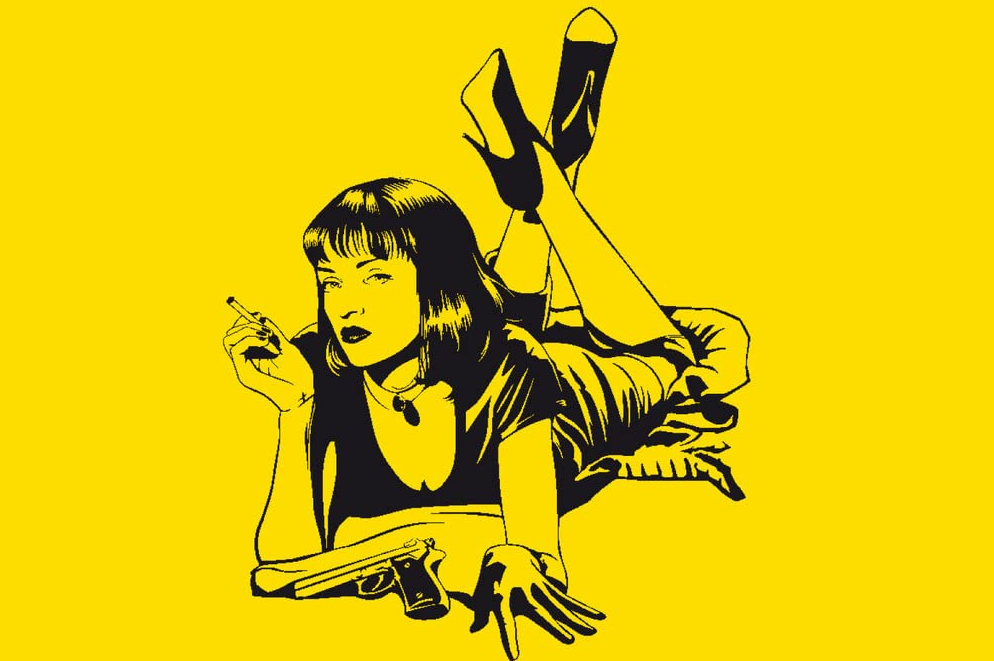 Pulp Kitchen, recipes from Quentin Tarantino's films by Casini, Fenoglio and Pasqua published by Thirty Editor, it is available in all Mondadori network bookstores for €14.00.