This item is available in:

Sweet, fragrant, bright red: raise your hand if you don't like strawberries! I'm sure almost all of you will have contained it well, because in terms of gluttony, strawberries are perhaps second only to cherries. A fruit so loved that it has dedicated museums: the first Strawberry Museum is located in Wépion in Belgium, founded in the 1970s and appreciated by tourists from all over the world. In 2017, another all-Italian museum was added: it is located in Parete, in the province of Caserta, in the old halls of the Doge's Palace. Five rooms inspired by different themes: botany and gastronomy, but also economic, historical, artistic and advertising.
What if I told you that despite the notoriety and the many admirers, the strawberry is a fruit… false? Well yes, but only for a matter of terminology: in botany the real fruits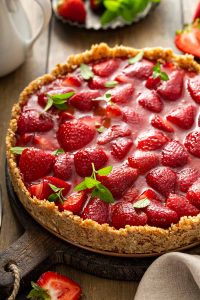 they are only those that develop from the ovary, that is, from the reproductive system of the female flower. However, many plants have evolved differently, and fruits can be generated from different parts of the flower: in all these cases we speak of false fruits. Examples of false fruit are the apple (where the real fruit is the pit which is normally discarded), and the aggregate fruit, which is formed from many small fruits joined together to form a single body, such as blackberries, figs and precisely: strawberries. By observing the surface of a strawberry, we see that it is covered with many tiny black seeds, the achenes: only these are actually the real fruits of the plant, grouped together in the fleshy pulp so appreciated.
Strawberries are therefore not a real fruit and they are not even berries, although the English translation "strawberry" can be misleading (berry in English means berry): according to botany, in fact, berries are only the fruits that hide the seeds all over the inside of the pulp, such as kiwis, blueberries and even tomatoes.
It's not a real fruit, it's not a berry, and what's even more curious: they belong to the Rosaceae family, and are therefore closely related to roses. And finally, not all strawberries are red: there are also a few albino varieties. This is the case, for example, of the Pineberry, known as the pineapple strawberry and originating in Chile, which is white with red pips. A fruit full of surprises!
From a nutritional point of view, the strawberry contains many important elements, so much so that it is considered a super food, an exceptional food for health: low in calories, rich in water, fiber and flavonoids antioxidants, magnesium, calcium, potassium and vitamin C, with diuretic and satiating properties.
They are good for the line, not only because they contain only 5.3 grams of carbohydrates per 100 grams of fruit (the banana contains 60 grams), but also because the antioxidants contained increase the production of adiponectin, a hormone that stimulates metabolism and reduces appetite, controls blood sugar levels and thus prevents diabetes and the formation of abdominal fat. If eaten as part of a balanced diet, strawberries help the body restore its natural ability to lose weight. Provided, however, that you eat them plain, seasoned only with lemon juice, and not "reinforced" with sugar or whipped cream!
They are also good for the heart, as they are able to regulate blood cholesterol levels and lower blood pressure, with effective antioxidant and anti-inflammatory action. They are also very rich in vitamin C: 58 grams out of 100, more than that contained in oranges, and few fruits are enough to cover the daily requirement which is 60 grams.
They also contain xylitol, a substance that prevents the formation of dental plaque and kills the germs responsible for bad breath. They are therefore perfect as an end-of-meal dessert, light and tasty.
Like all fruits and vegetables, in order to better appreciate their flavor and benefits, it is important to eat strawberries when they are in season, so in spring and summer,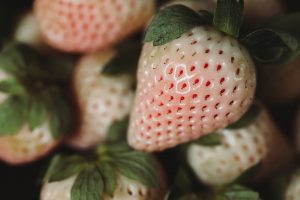 despite being on the market practically all year round. They can be brought to the table several times a week, or even every day, and their versatility makes them suitable for both sweet and savory recipes, raw but also in the kitchen. They are naturally perfect for all types of desserts, both for decoration and topping: for example for a more summery version of the traditional Tiramisu, or topping a shortbread cake. Soft and delicate, they are an excellent ingredient in salads, for example with arugula, raw button mushrooms and lemon juice. Or combined with raw spinach, Greek feta and mint leaves, to enjoy as a chilled side dish or to top wraps and sandwiches. Crushed and cooked with sugar and vinegar, they become a sweet and sour sauce to serve with savory, soft or aged cheeses.
For a truly surprising dinner, try a strawberry and white wine risotto. Aromatic and original, the strawberries must be peeled from the stem, chopped and added to the risotto only in the last minutes of cooking: thus all the aroma and sweetness will be preserved.
Trust your imagination and experiment with many other recipes: if you wish, send me photos of your strawberry dishes!
Questions or curiosities about nutrition? Write to [email protected] and I'll try to answer through this column!
***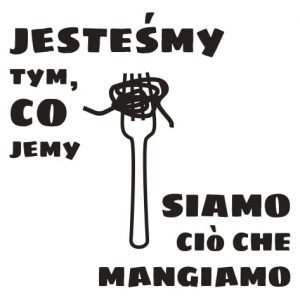 Tiziana Cremesini, graduated in Naturopathy at the Institute of Global Medicine in Padua. He attended the School of Human-Animal Interaction, obtaining the title of Referent in zooanthropology of well-being (Pet-Therapy), an activity in which his interests are combined: therapeutic support and improvement of the relationship between being human and the environment that surrounds him. In 2011, he won the Florence Literary Prize for Cultures of Peace in memory of Tiziano Terzani. She is currently enrolled in the Science and Technology for Environment and Nature course at the University of Trieste. He has published two books "Animal Emotions and Bach Flowers" ​​(2013), "Vegan Recipes for Denied" (2020). He has been collaborating with Gazzetta Italia since 2015, taking care of the "We are what we eat". For more information visit the site www.tizianacremesini.itv
This item is available in: