Chicken, fries, but also chicken nuggets are the foods that cook in the fryer without seasoning and without excess fat.
Roast, fries, chicken nuggets are all popular foods, but as we know, they are not healthy. In order not to give up these delicacies, it is possible to cook them with the air fryer which allows healthy and healthy cooking of these dishes. Let's see how it works and the best model.
air fryer
A device that, thanks to air technology, allows you to cook any dish in a healthy and healthy way, reducing fat. With the air fryer, you can fully enjoy crispy and fried food, but in a completely healthy way, without putting too much weight on the line and maintaining a slender body.
It has a compact structure and small dimensions. An optimal solution with excellent results to enjoy a cooked and crispy food, but without too much fat due to excessive use of butter and oil. It works, as the name suggests, by pushing high-temperature air to the surface of the food so it can cook well.
The structure of this kitchen product can be very similar to an electric oven. In the upper part there is the fan, the control center and the radiant surface, while in the lower part there is the basket of different capacities where you can prepare food and cook it. A versatile device that is also suitable for special occasions.
The air fryer is very simple and easy to use, so there is no problem using it. The models are varied: some are wide and others very high, depending on everyone's needs. Wide models are preferred, but much depends on the tastes and needs of each consumer.
Air fryer: recipes
With the air fryer, so without the use of oil, to make dishes crispy, but also healthy, you can cook any food, not just classic fries. You can prepare many dishes for your friends and dinner guests: from croquettes and ribs to vegetables, shellfish and fish. The more advanced models offer the possibility of preparing roasts and stews, etc.
A precious ally in the kitchen for preparing mouthwatering and gourmet dishes such as, for example, squid rings. A very simple and easy recipe for which fresh squid and a teaspoon of oil with a pinch of salt are enough. You have to cut the squid into rings by dipping them in flour or even in semolina.
Later, they are put in the basket of the air fryer, adding a teaspoon of oil, according to your taste. It is advisable to let them cook at a temperature of around 200° for 7-8 minutes, also depending on the degree of thickness. Then they sprinkle with a little lemon juice to bring them to the table.
Another very easy recipe to prepare with the air fryer are chicken nuggets. They must be dipped in beaten egg with lemon juice and salt, then in the cereal. They are then placed in the fryer basket for the same time and temperature and then served with a sauce or side dish. With this appliance, it is also possible to cook the classic chickpea or chickpea dumplings at home without bad smells.
Air fryer: best model
Among the different models of air fryers, the most qualitative model and also recommended by consumers is air oven, a 3-in-1 air oven that performs various functions. It has a structure that allows you to roast, fry and even dehydrate the food inside. It has a touchpad and an LED display to control the cooking of food.
It has a transparent glass that shows the different foods. It has a series of preset programs and allows you to cook any dish and recipe with 70% fewer calories. The particularity of this product is the type of cooking without oil or fat, therefore without condiments for meals and dishes in a healthy and healthy way.
An air oven like Air Oven allows you to cook many delicacies: from fries to chicken wings to croquettes that will delight friends and loved ones. A healthy and light cooking method, also suitable for dieters. Very easy to use: just set the type of cooking and the timer then move on to cooking the food.
For those who want to know more, can click here or on the following picture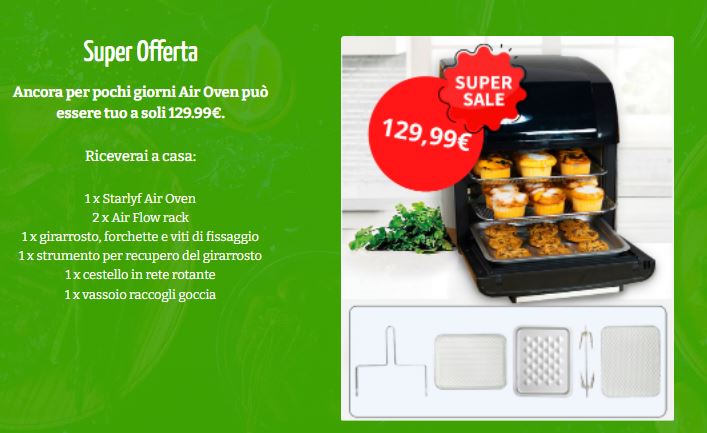 You can choose between different accessories depending on the dishes to be prepared: from the rotisserie to the rotating mesh basket, including the tray that collects the drips. It has a multi-cooking design with which to fry fish or roast meat, but also to dehydrate fruits and vegetables. has a capacity of 12 liters with tasty and crunchy dishes.
Customers are delighted.
Inside the package you can find 2 flux racks; a skewer with needles; a rotating mesh basket and a drainer.
Air Oven cannot be ordered in physical or e-commerce stores and, to be wary of product imitations, the consumer can connect here to the official website of the productenter the data in the form and thus take advantage of the promotion of this fryer at the price of €129.99 instead of € 199.99 with payment on delivery to the courier or via Paypal or credit card.