A vegan recipe that will conquer your palate from the first taste, if you've never tried hummus you have to do it, it's simply delicious, it would be a shame not to try it. It will become a real addiction.
Accustomed to bringing the usual meat or fish dishes to the table, we are reluctant when someone offers us a new dish to try. This, however, would exclude the possibility of trying dishes that might turn out to be tasty and that we might enjoy. Among these, theHummus. Have you ever tried it?
A typical dish of southern cuisine that has become famous all over the world. It is served on the table accompanied by delicious and crispy croutons. L'chickpea hummus it presents itself as an unctuous and velvety cream which is then flavored with spices of all kinds. It is a real delight and also a tasty alternative to consume these legumes which are also truly valuable for our health.
THE Chickpeas in fact I am one of legumes most consumed, and want for the flavor you want for their versatility, they are very popular in the kitchen. In fact, although we usually prepare the usual pasta and chickpeas, these lend themselves very well to being brought to the table in several variations. Speaking of various dishes and recipes that include chickpeas, have you ever tried them crunchy? It's a really tasty healthy snack that you can prepare in just a few steps! But as for chickpea hummus, are you curious to try it? Let's find out how to do it right away. It's here complete recipe!
Chickpea hummus, how to prepare it: the complete recipe
Experimentation in the kitchen allows us to try different dishes that all give us new and obviously tasty flavors. Of course, we like it or not, but the important thing is to experiment and above all to ensure that our diet is varied and balanced.
Often, in addition to bringing them to the table with pasta, we do not know how to cook chickpeas. But with this recipe I offer you a really tasty and even lighter touch! If you are looking for aalternative to cook chickpeas, I tell you that you have to try hummus with this very simple recipe! A tasty and velvety cream that you can accompany as you wish. But let's see how it is prepared. Find here the complete recipe:
500g pre-cooked chickpeas
Lemon juice
50g of Tahina
Garlic
Salt and pepper
2 tablespoons extra virgin olive oil
Parsley
Paprika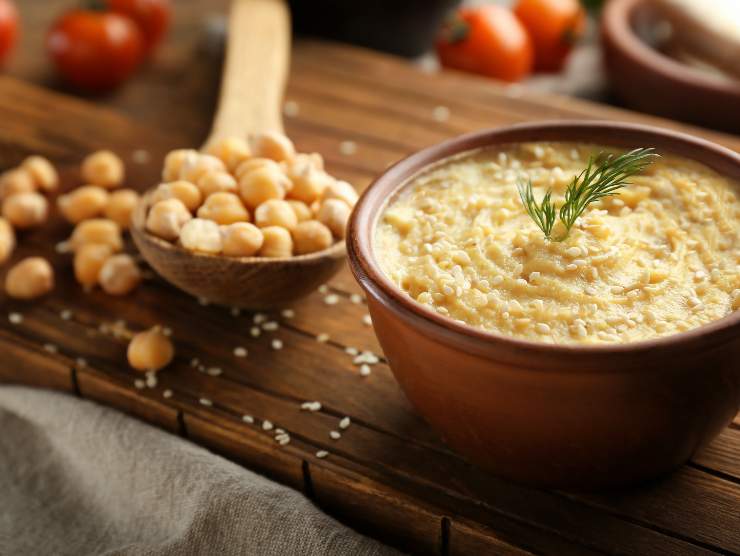 Making chickpea hummus is very easy at this point. We take the precooked chickpeas, rinse them under running water and remove the outer skin. Be careful, do not throw away the chickpea water, also called faba water. It can be used in other ways. Drain the chickpeas well, letting out all the excess water.
After that, we put them in a blender. At this point, add the oil, lemon juice and tahini to the chickpeas. Be careful not to overdo the quantities of tahini otherwise you risk covering all the flavor.
Once these first three ingredients have been added, we start to mix everything to obtain a smooth mixture to which we gradually add a small clove of garlic, salt and pepper or if you prefer chilli.
We mix and mix everything. We will then have obtained a creamy and full-bodied mixture that we can then transfer to a large bowl. Now we just have to finely chop the parsley that we are going to add with a pinch of paprika. Once the hummus is ready, we can then decide how to serve it.
Accompanied on the table by a delicious piadina seasoned with salt, oil and oregano, it is really tasty. And what are you waiting for to try it?